Chili Cream Vegetable Sandwich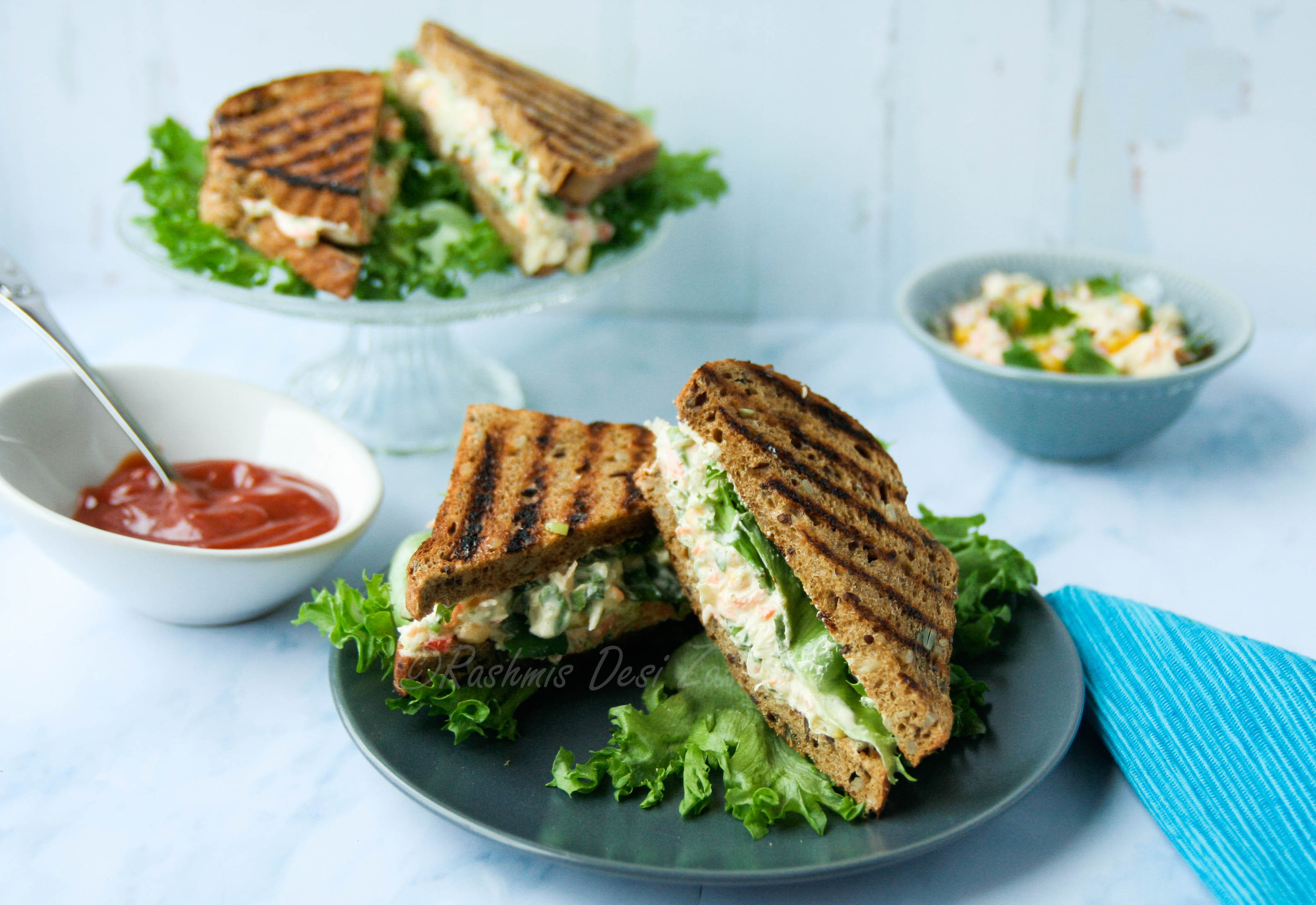 This recipe had been on my mind for a while. It brings back memories from my childhood where my mother used to make it for us.   
As you guessed it, the inspiration for this recipe comes from my mother who used to make it for us when I was little. The time I was growing up back in India, bread was not something that we used to eat a lot at home. You see we only used to get one kind of bread there, the white one, made with all purpose flour. In India we get two kinds of wheat flour, one we call as atta and other one which is maida or as is called as all purpose flour. Atta is healthier as it is made using whole grain and and is not bleached and refined unlike maida. So, my mother was not very keen in general to make food for us using maida. I remember that she always used to find ways to substitute maida with whole grain and healthy flour. Not surprisingly she still does it 😊
So, coming back to these sandwiches. If we insisted she used to sometimes make sandwiches but it is given that there must be some veggie in it. I don't know where she got an idea but one day she made these nice, creamy, and simple sandwiches. It has so few ingredients, but I still remember feeling so happy after having them.  The filling was made with homemade cream which was mixed it with grated cabbage and simply seasoned it.
Now when I try to incorporate veggies in my kids food, I can totally relate to how she felt when me and my sister always asked her to make those sandwiches…oh mother's delight.
My version here is of course inspired from her but has more veggies and flavorings. I have also used wholegrain bread and lightly grilled it which makes it crunchier and delicious. They are very easy to make and works so good for kids but also for parties and get together.
I know..I know you must be thinking that it won't work when it is cold outside. But, trust me that it works. With grilled toast and hint of chili..it does work. Of course, one can enjoy veggies anytime of the year.
Here is my recipe..
Ingredients:
70g carrot, grated
100g cabbage, grated
55g bell pepper, finely chopped
75g corn kernels
100g cream cheese
50g whipping cream, whipped
1 clove of garlic, freshly grated
¾ tsp chili flakes
1 tsp lime juice
½ tsp black pepper, freshly crushed
Salt, according to taste
2 tbsp fresh coriander, finely chopped
12 Whole grain toasts
Few lettuce leaves
Butter, for bread
Method:
In a medium size bowl whisk the cream cheese to loosen it up. Add in the chili flakes, lime juice and freshly grated garlic. Season it with salt and pepper. Stir to mix everything together.
Mix in the vegetables- carrots, bell pepper, corn, and cabbage. Gently mix everything together.
Fold in the whipped cream. Finally mix in the fresh coriander leaves. Keep it aside.
Place a griddle pan on high heat. Lightly coat the toasts with melted butter and place them on the hot pan to toast. Grease the other side too and turn around when the first side gets nice marks. Take them off the heat once toasted from both sides.
Lightly butter the toast and spread the creamy filling onto it. Place few lettuce leaves and finally top it off with other piece of toast.
Creamy and crunchy malai sandwiches are ready to serve. Enjoy!
Preparation time: 15 minutes
Cooking time: 10 minutes
Makes: 6 sandwiches
---