Kesari Kaju Peda-Saffron Cashew Nut Fudge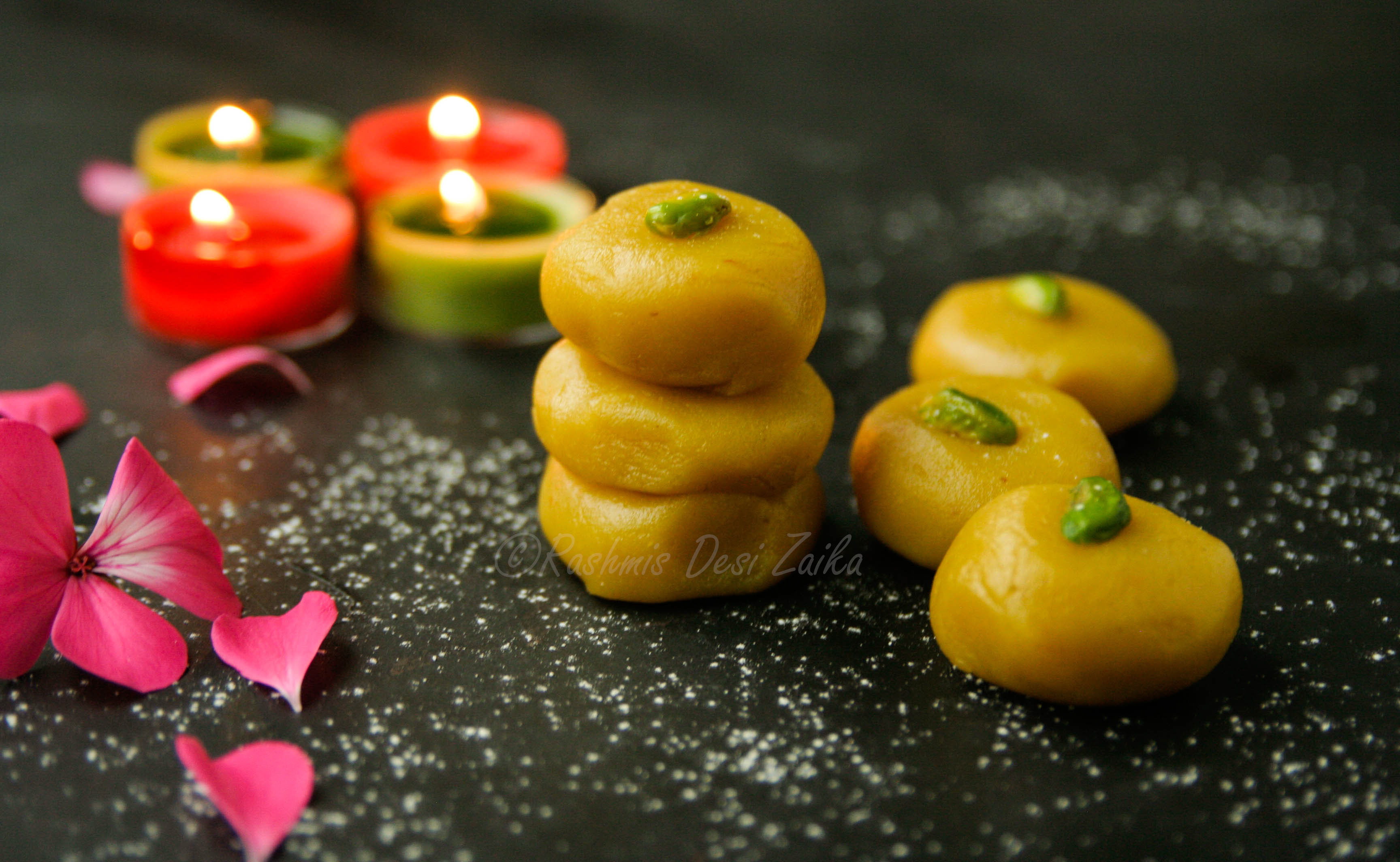 It is again that time of the year when it is starting to get chilly and dark out here.  Living in this part of the world where we have four quite distinct seasons, I have only recently started to enjoy fall season..the changing colors of the trees, crisp and fresh air and distinct aroma in the woods. But back in India, this is the festive season and preparations and celebrations would be in full swing, as Diwali is almost here.  
Being away from all the Diwali action in India, I would really want the kids to know about the festivals and rituals from India. I think it is important!! So, for them I always do something special on every festival.  I try to make some new and inspired Indian sweets for them each year, like coconut rose burfi, caramelly kheer. They really love it, especially lighting the candles and enjoying the sweets.
For this Diwali, I made another sweet recipe from India, kesari kaju peda. Of course, we Indians love our sweets. It is time of festivities where we indulge, enjoy, and may be over eat.  The recipe I am sharing is adapted from famous sweet, 'kaju katli' where fresh cashew nuts are crushed and then cooked in sugar syrup. The cooked and thickened batter is then spread out and cut into diamond shape. I made my one as peda, where the final cooked dough is portioned out and then rolled out in palm to form round balls. I find this way of making them quite easy and taste is divine. It is creamy, sweet and with of saffron, my favorite spice.  
Love the colors!!!
Sitting here almost at the eve of the festival of lights and looking out at the burning lanterns which we lit together with the kids and  enjoying the sweet aromas coming from the kitchen..it started to feel like Diwali.
Happy Diwali!!!
Here is my recipe..
Ingredients:
250g cashew nuts
2-3 tbsp ghee/butter
75-80g confectioners sugar
50 ml of milk, warm
¼ tsp saffron
Handful pistachios, for garnishing
Method:
Soak the cashew nuts in water, just enough to cover them, for 3-4 hours. Grind the cashew nuts with the water to a smooth paste. Check the consistency of the paste. It should not be grainy.
Soak the saffron strands in warm milk. Keep it aside for few minutes.
Melt the ghee in a non-stick pan placed on medium heat. Once the ghee starts to melt, add in the cashew paste, sugar, saffron-milk to the pan and mix everything together. While stirring it continuously cook the mixture on low to medium heat until it starts to leave the sides of the pan. The cooked mixture should be quite thick and has dough like consistency.
Once it is cooked and has right consistency, transfer it onto a plate and let it cool down for 5-6 minutes. The mixture will thicken up further.
Grease your palms with some ghee. Take small portion out of the cooked dough and roll it between your palms to form smooth ball. Do it similarly for rest of the dough. Keep them aside to cool completely.
Once cooled completely, garnish with chopped pistachios.
Enjoy!!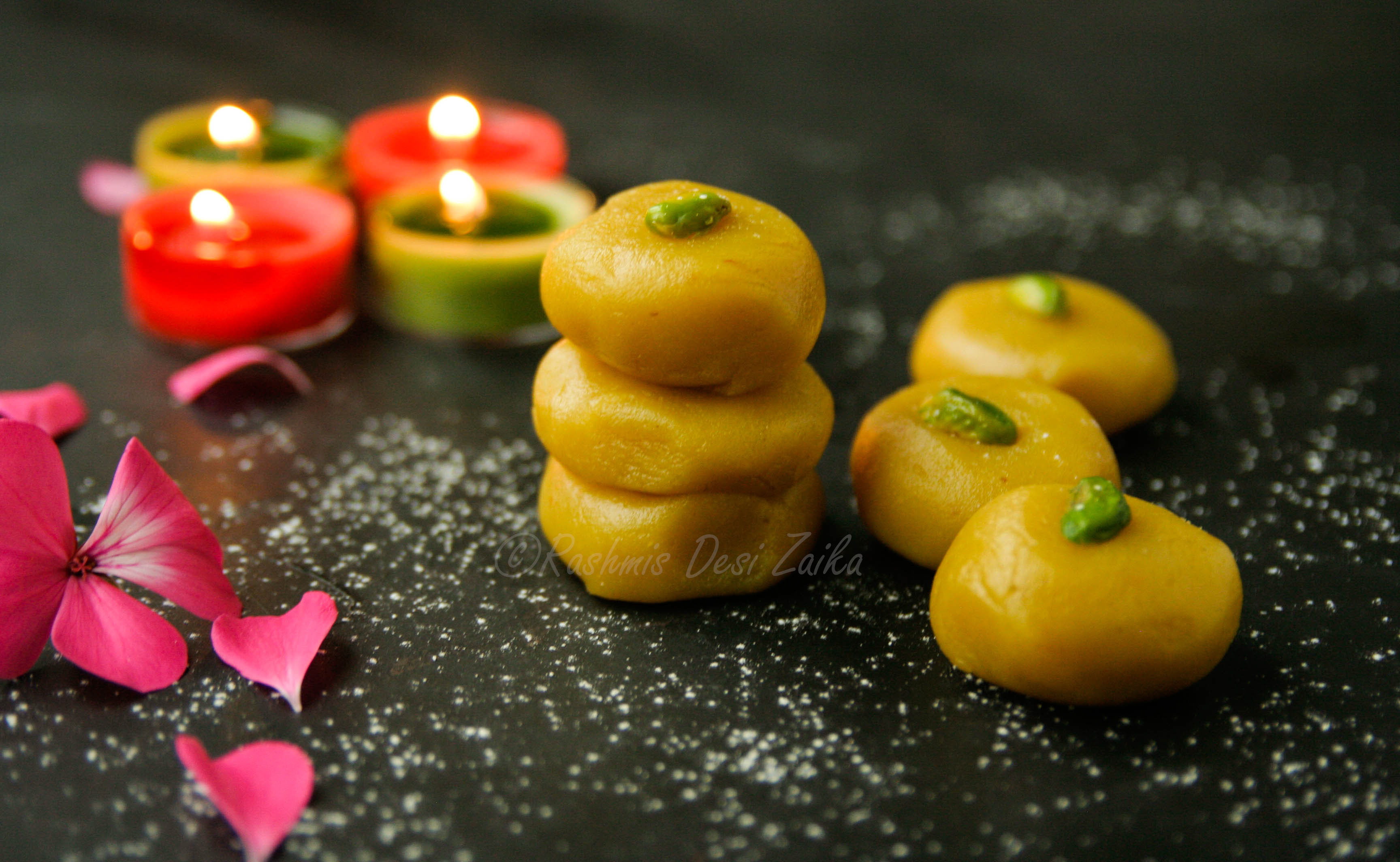 Preparation time: 10 minutes, extra for soaking
Cooking time: 15-20 minutes
Makes:16 pedas
---