Hara Bhara Kebab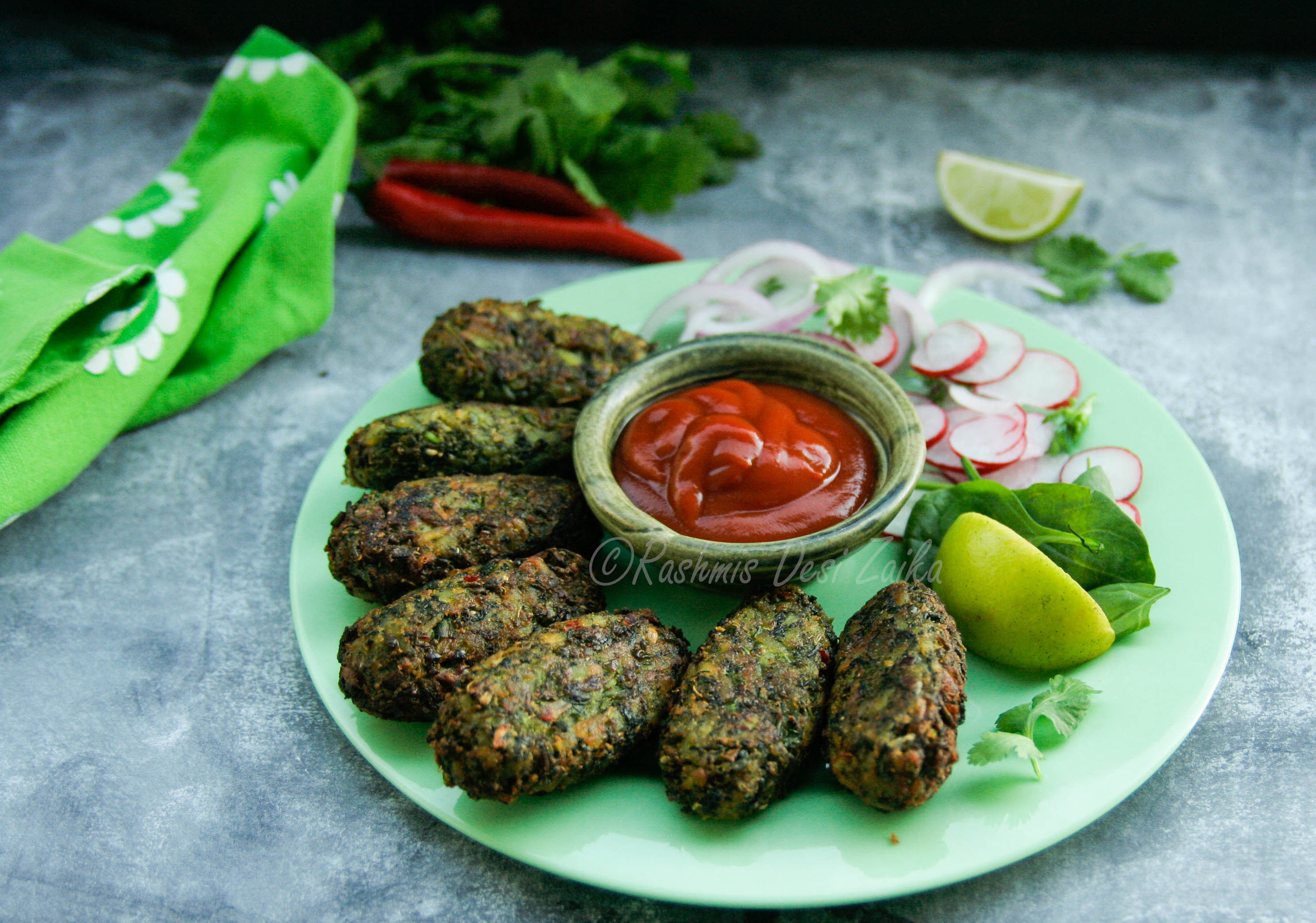 Summer is the best time of the year and my absolute favorite. So far for us it has not been that many warm days…hopefully, it will get better.
In any case, it has been quite busy here with kids being on summer holidays. That been said, it is also so nice to spend this time with them…going out with them to bike, play and of course make nice food for them.  In our family, we try to expose them to all kind of food, especially Indian food. The fact that they are home, I get to try even more new things for them, sometimes trying ways to incorporate more veggies in their food.
Today's post is about one of a very popular Indian snack recipe, hara bhara kebab, that incorporates summer veggies in the best way and is so yummy that kids don't realize that they are eating green vegetables. The kebabs are made with healthy veggies, easy to make, crunchy and so yummy…what else one would want.
So, here is my recipe
Ingredients:
150g spinach, blanched
150g peas, blanched
2-3 medium potatoes, boiled and peeled
1 spring onion, finely chopped
3-4 tbsp gram flour
1 green chili, finely chopped
½ tsp red chili powder
1 tsp mango powder
½ tsp garam masala
1 tsp coriander powder
½ tsp cumin powder
1 tsp salt, according to taste
3-4 tbsp fresh coriander, finely chopped
Oil for frying
Method:
In a large mixing bowl, mash the potatoes well enough so that there are no lumps left.
Squeeze off extra water from blanched spinach and peas. Place the spinach in a hand blender and roughly grind it. Mix the crushed spinach with the potatoes. Repeat the same with the peas.
Using your hands gently mix them together. Add in the chopped chili, coriander, spring onion gram flour and all the spices.  Mix everything well together. Add in more gram flour if the mixture feels wet.
Divide the dough into 15 portions and shape them into balls. Grease you palm lightly and take small amount of the mixture and gently shape it in form of a cylinder, like a kebab. Keep them aside.
To fry the kebab, heat enough oil in a wide, heavy-bottomed vessel. The oil should be hot but not too hot. Keeping heat at medium to high slowly drop 3-4 kebab into the oil. Turn them around few times to cook them on both sides. They should be golden brown in color. Remove from the oil and drain them on paper towels.
Serve them hot with ketchup or spicy mint-coriander chutney.
Enjoy!!
Preparation Time: 30 minutes
Cooking Time: 30 minutes
Makes: 10
---