Smoked Sultani Dal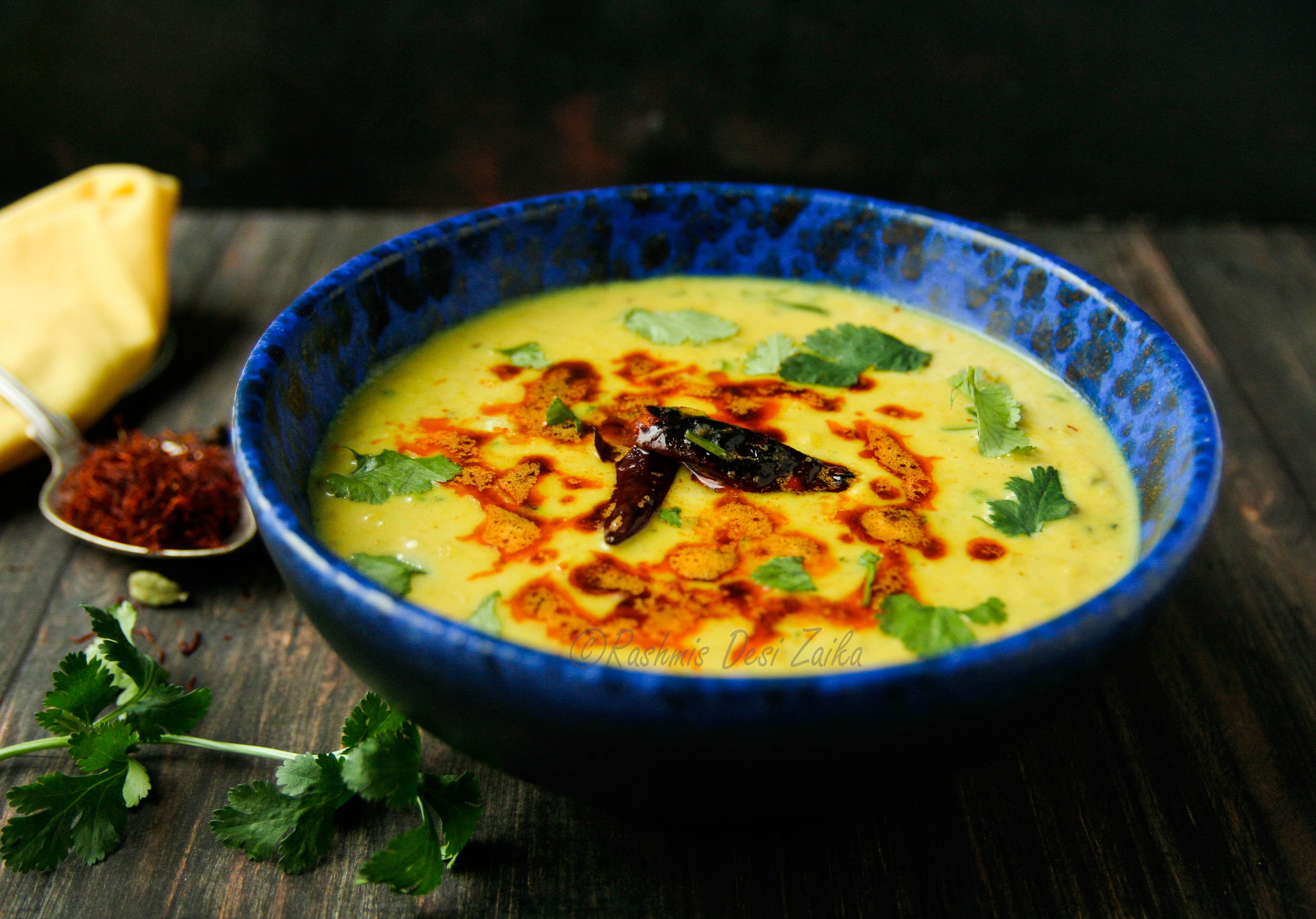 Sultani dal is a creamy preparation with its root originating from awadhi style cooking. Awadhi cuisine comes from Lucknow also called as city of Nawabs, which is capital city of the state of Uttar Pradesh in Northern India.
Awadhi cuisine is highly influenced by Mughal cooking techniques and cuisine from Lucknow bear similarities to food from other Northern states of India. It is not only famous for inventing dum style cooking or art of cooking on slow fire, but also for its dishes like kebabs, biryani and also rich spread of vegetarian dishes. The elaborate spread is made with ingredients like mutton, paneer, milk, rich and luxurious spices like cardamom, black pepper and saffron.
Today's post is the recipe of Sultani Dal which is one of the food gems coming from Lucknowi kitchen of nawabs. It is made by slowly simmering arhar dal in milk and yoghurt which is then mixed with rich spices that were tempered in ghee. The rich and creamy texture and mouth watering aroma from spices was considered to be 'Shahi' and was thus deemed fit to serve the royals.  I always wanted to try to make it myself and actually got the inspiration after we started to coal smoke food. Traditionally, in olden times the food was cooked slowly on coal or wood which then adds smoky note to the dishes. After few attempts, I finally managed to get the flavours that I remembered from eating in India.
This is one of those recipe which is so easy to make and brings royal flavors without taking away the feeling of comforting home meal. Using ingredients that are easily available in our kitchen you can cook something new and delicious to try.
Here is the recipe..
Ingredients:
For dal
200g yellow split pigeon peas (arhar/toor dal)
1 tsp turmeric powder
1 tsp salt
100g thick yogurt
250 ml milk
2 tbsp cream
For tempering
1 small onion, finely choppe
1 tsp garlic paste
1 tsp ginger paste
1-2 whole dry chili
1-2 cardamom, seeds (crushed)
2-3 cloves, crushed
1 tsp coriander seed powder
½ tsp cumin seed powder
1 tsp amchur powder
1 tsp red chili powder
2-3 tbsp ghee
¼ tsp saffron, soaked in warm milk
For smoking
1 small piece of coal
Ghee
Method:
For cooking dal
Rinse the dal few few times with running water and soak in water for 30 minutes to an hour.
Transfer the soaked dal in a pot and add enough water to cover the lentil. Add in salt and turmeric and bring it boil on medium-high heat. Once boiling, reduce the heat to low-medium and let it simmer with the pot partially covered with a lid.  Let it cook for 15-20 minutes, until it softens. Add extra water only if needed as you don't want it to be too runny.
In a small bowl, mix together milk with yoghurt to form homogenous mixture. Set it aside.
Once the dal is softened and thickened, use the back of the ladel to mash it well. Mix in the milk and yoghurt mixture and let it simmer on low heat for 10 minutes until it thickens up a bit. Add in extra milk if needed.
For smoking
Place a piece of coal in small metallic bowl and heat it up until it is red hot. Carefully transfer the bowl with the coal and place in the pot with cooked lentil. Pour some ghee on the hot coal and immediately cover the lid of the pot to smoke the dal. Put something heavy on top of it to seal.  Smoke it for 1 hour. You can reduce the smoking time according to your own taste. Discard the coal and mix it well.
For tempering
Melt the ghee in a small pan placed on medium heat. As it starts to melt add in whole red chili. Cook it for a minute and add in the chopped onions. Fry it until soft and translucent. Add in ginger and garlic paste. Sauté it for a minute.
Reduce the heat and then add coriander powder, cumin powder, chili powder, crushed cardamom and clove powder. Be careful not to burn the spices. Mix in this cooked spice mixture to the pot of cooked dal.  Mix in the cream and saffron to tempered dal. Add in more salt if needed and mix in the amchur powder.
Enjoy it hot with roti or rice.
Preparation:  30 minutes, extra for smoking 
Cooking time: 45 minutes
Serves: 4-5 portions
---