Thandai Spiced Rabri-Spiced Thickened Milk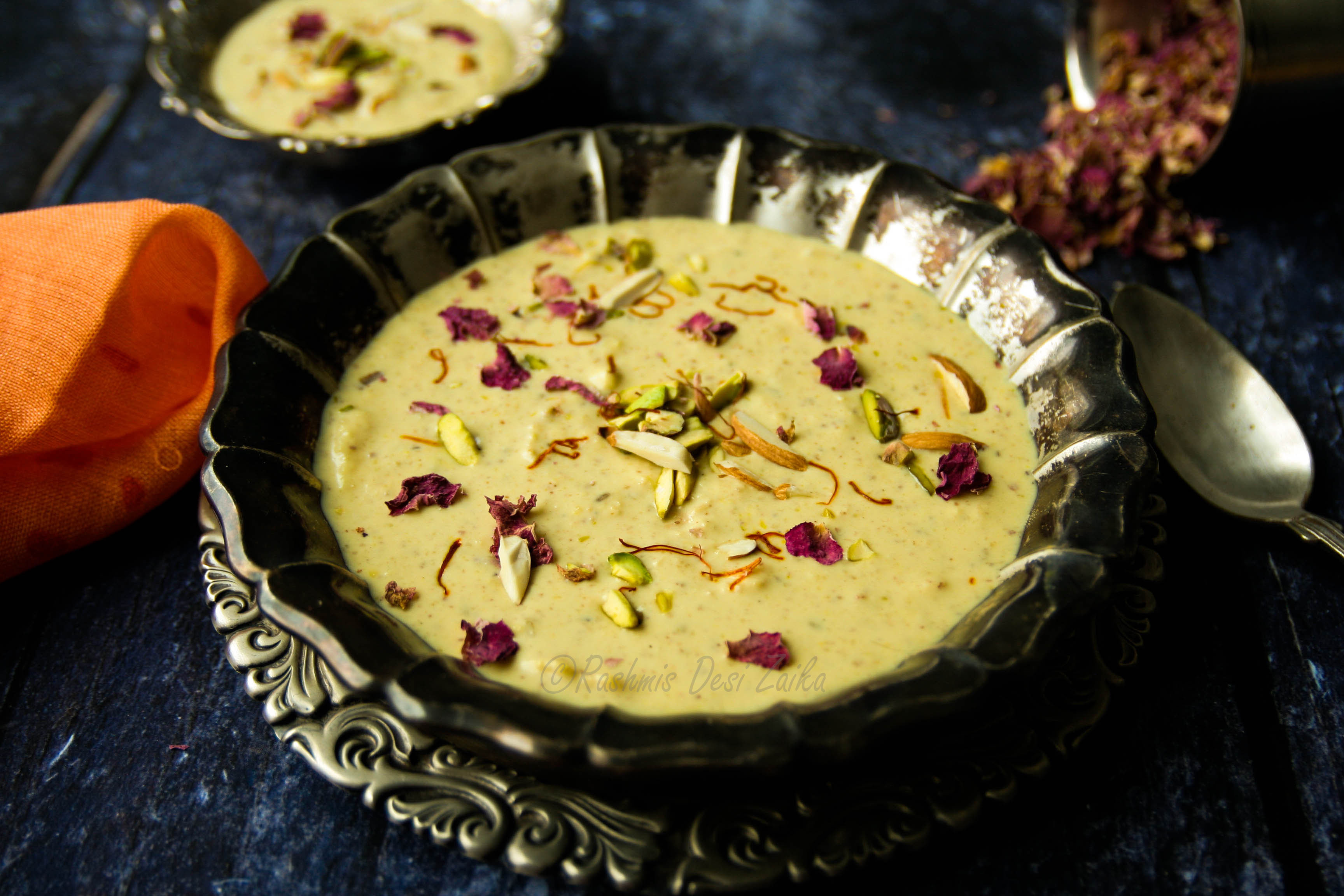 It is Holi festival coming up in India, which is also called as the Festival of Colors. As it is festivities time, we of course eat sweets, popular one around this time is gujiya.
Today's recipe is a twist on a traditional drink that is consumed around Holi and during summer times, called as Thandai. It is an Indian cold drink prepared by mixing milk with 'Thandai' spice mixture, which contains almonds, pistachio, various spices and rose petals. I remember in my childhood my mother was initially buying ready-made mixture but then she eventually started to make it herself. Thandai is very often associated with Mahashivratri and Holi festivals, however, it is also enjoyed throughout the hot summer season, as it is considered to have cooling effect.
My absolute favorite dessert from India is Rabri. It is basically sweetened thickened milk with layers of malai or cream in it. It is made by simmering milk on a low heat, by collecting all the cream that comes on the top and as a result the milk is slowly reduced and thickened.
In today's post I am going to share my recipe of making rabri with thandai spice mixture. The outcome is absolutely divine, its creamy, its rich and spices just transforms the humble rabri.
So, here is my recipe..
Ingredients:
For thandai spice mixture
25g  almonds
25g pistachio
½ tsp black pepper, crushed
2-3 cardamom (seeds only), crushed
1 tbsp. melon seeds
¾ tbsp. khus khus (poppy seeds)
1 tsp fennel seeds, crushed
For rabri
1L full cream milk
200 ml full fat cream
4-5 tbsp sugar
1 tsp rose water
¼ tsp saffron strands (soaked in 2 tbsp of warm milk)
4-5 tbsp thandai spice mixture
Few almonds, sliced
Few pistachios, sliced
Method:
For thandai spice mixture, place all the ingredients in a blender and grind to get coarse powder. Set it aside.
To make rabri, put together in a heavy bottom or non stick pan milk and cream and place it on a low to medium heat. Bring it to boil and then reduce the heat to low. As the milk start to form a layer of cream or malai on the top, use a spatula to gently move the layer bringing it to the side and stick it to the pan. Continue simmering the milk like this and collecting the layers of cream on the sides. Stir the milk in between, to prevent it from browning or sticking at the bottom.
When the milk is half reduced add in 4-5 tbsp of thandai spice mixture and sugar, according to taste. Continue simmering the milk and collecting cream until it is reduced to one-fourth. Add in the soaked saffron and let is cook for few minutes.
Take it off the heat. Using spatula, scrap off the cream collected on the sides and add it to the thickened milk. Stir it gently. Add 1 tsp of rose water and mix it gently.
Let it chill and garnish it with sliced almonds and pistachios while serving.
Preparation:  10 minutes
Cooking time: 1.5 hours
Serves: 5-6 portions
---