Roasted Eggplant with Whole Spices and Coconut Milk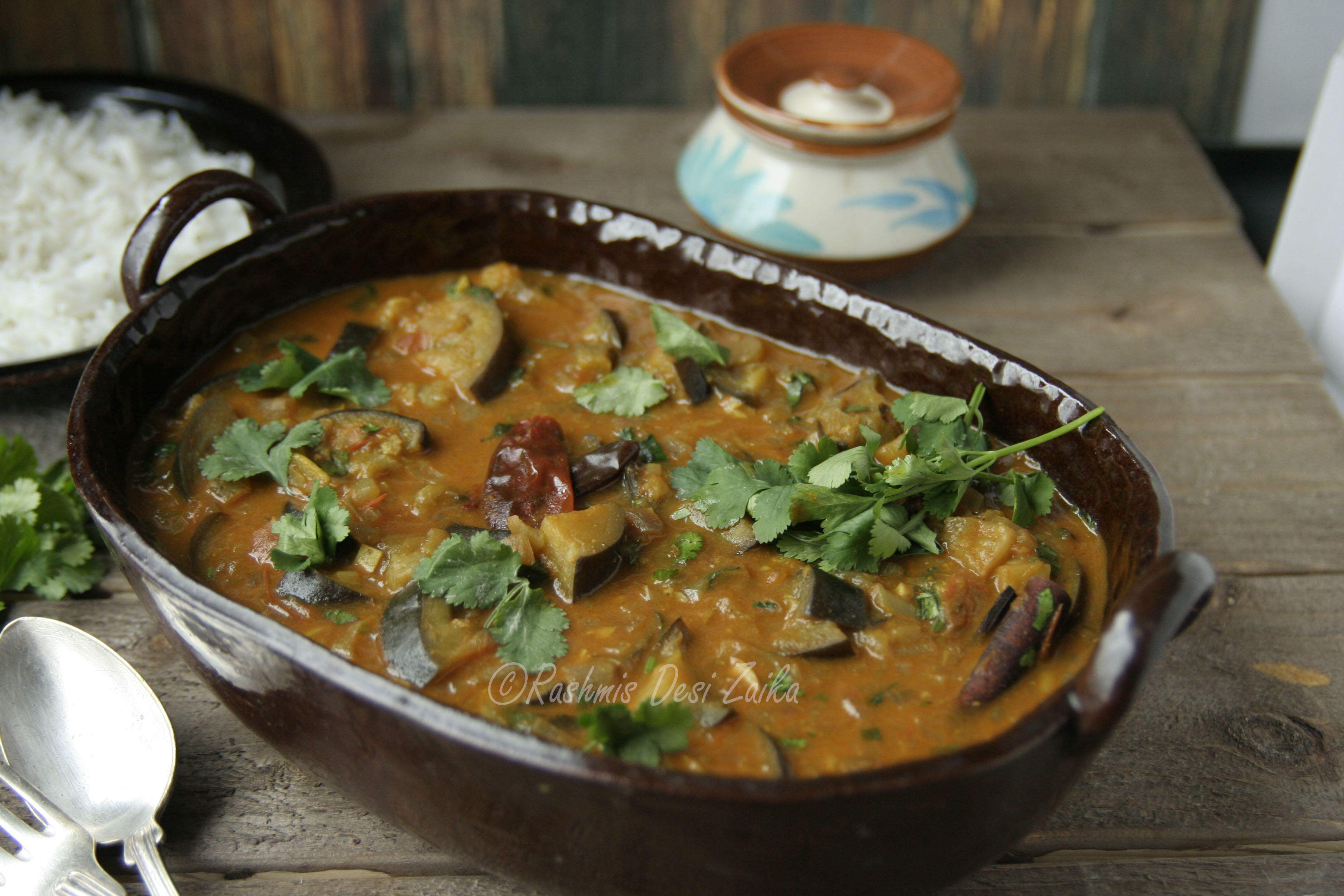 This post is about my all time favorite and in my opinion one of the humblest vegetable, eggplant. I have met many people who said that they have no idea how to cook this vegetable, may be because they consider it to be too bland. The thing is that in my opinion it one of those vegetable which just tends to soak all the flavors for example of spices, garlic or tomato or whatever it is cooked together.
This recipe that I am sharing today is not the one that I usually make but it is a bit twist to the traditional one and a bit inspired by flavors of South India.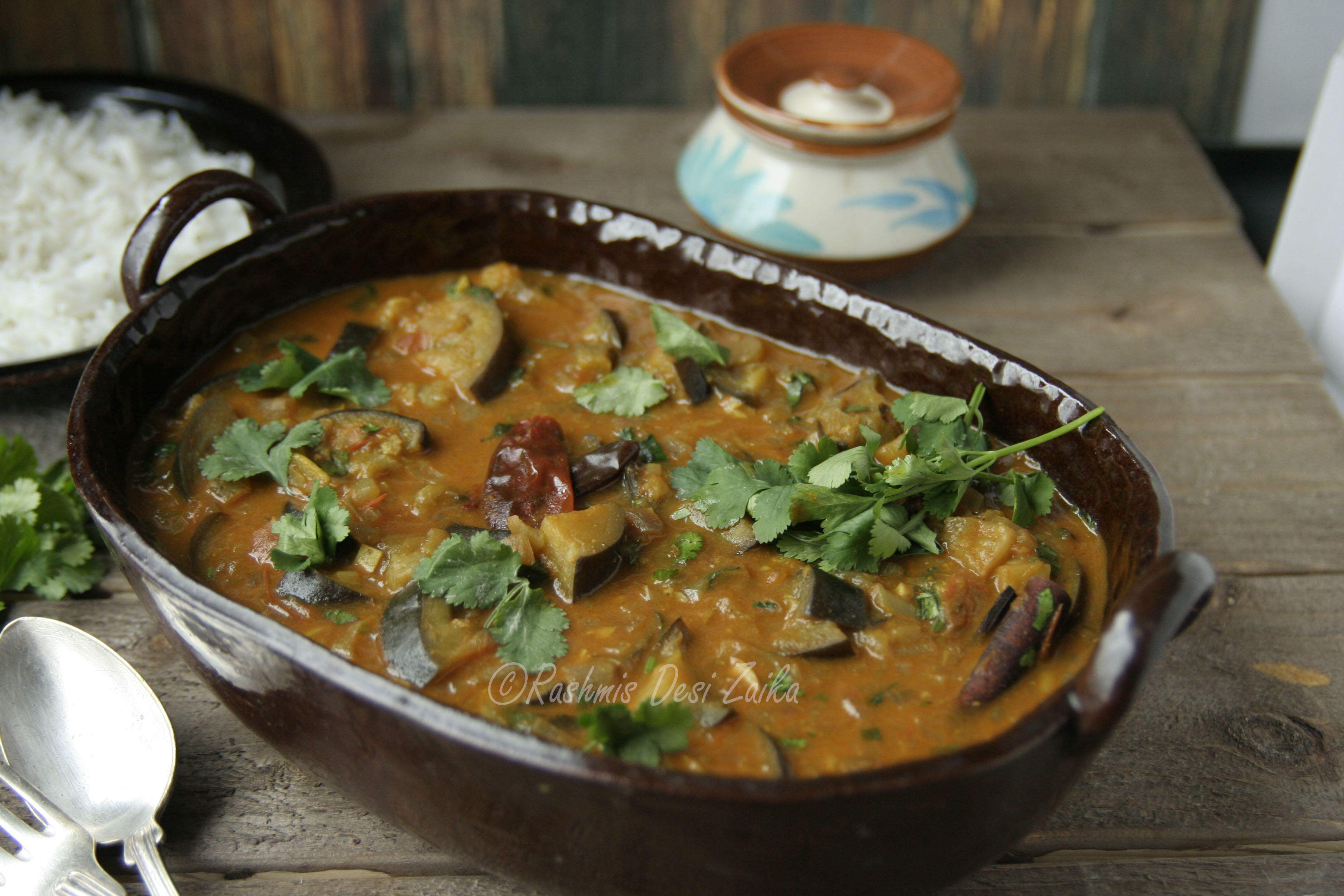 Eggplant is a summer vegetable and as you know it's winter time here, but last week the weather was a tad bit warmer and for some reason it felt like spring. I remember while going for groceries, I felt like making eggplant for dinner, so here I had them in my shopping bag. The original plan was to make traditional recipes that I normally make, but then looking out at the snow outside I felt like making something with spicy gravy to go with rice. So, starring in my pantry I spotted can of coconut milk and then I remembered seeing a picture of recipe where eggplants cooked in gravy in a food magazine. I instantly knew what to make for dinner that evening. I love eggplants in any form and here in this recipe with whole spices and sweetness of coconut, was just perfect when it felt like spring but it was still snowing outside. 
Here is my recipe of a eggplant in gravy with a spicy twist and it is just perfect for this late winter weather.
Ingredients:
For roasting
600g eggplant (2 small ones)
2-3 tbsp oil
½ tsp salt
For gravy
4-5 cloves garlic, finely chopped
2 medium onions, finely diced
3 medium tomatoes, finely diced
½ cinnamon stick
2 bay leaves
1 whole red chili
2-3 cloves
1 green cardamom
1 black cardamom
1 small piece of mace
1 tsp cumin seeds
2 tsp coriander powder
½ tsp turmeric powder
1 tsp paprika powder
½ tsp red chili powder
1 tsp salt, according to taste
½ -1 tsp sugar
2-3 tbsp oil
1 can of light coconut milk, 400ml
1-2 tbsp fresh coriander, for garnishing
Method:
For roasting eggplant
Prepare the baking tray and heat up the oven at 180C.
Cut the eggplant into 3-4 cm pieces and put them onto the baking sheet. Drizzle 2-3 tbsp oil and sprinkle the salt. Toss it well with a spatula or your hands and when everything is coated well spread it evenly in the tray. Roast it in the oven until they start to brown up on the edges, around 10-15 minutes. Using a spatula mix turn them around in between. Roast another 5-7 minutes, if needed. Remove from the oven and set it aside.
For gravy
Place a deep non-stick pan or a heavy bottom pan on medium-high heat and heat up the oil.
Add bay leaves, green cardamom, black cardamom cloves and cinnamon. Fry it for a minute or two, until you can smell the aroma of the whole spices. Be careful not to burn the spices.
Add cumin seeds and chopped garlic and fry it briefly and then add chopped onions. Fry it until soft and translucent.
Reduce the heat and then add coriander powder, turmeric powder, paprika powder and salt. Cook briefly and then mix in chopped tomatoes.  Stir well to combine everything and cook it on medium heat until tomatoes soften and water is dried out.
Add in the coconut milk and mix it well. Add little bit of sugar and adjust the seasoning. Finally mix in the roasted eggplants and add little water (75-100ml). Cover the pot and cook until on medium heat until eggplant is soft around 10-12 minutes. Adjust the consistency of the gravy and add more water if needed.
Garnish it with freshly chopped coriander leaves and serve it hot with rice. Enjoy!!
Preparation:  30 minutes
Cooking time: 45 minutes 
Serves: 5-6 portions
---