Rosewater and Pomegranate Bites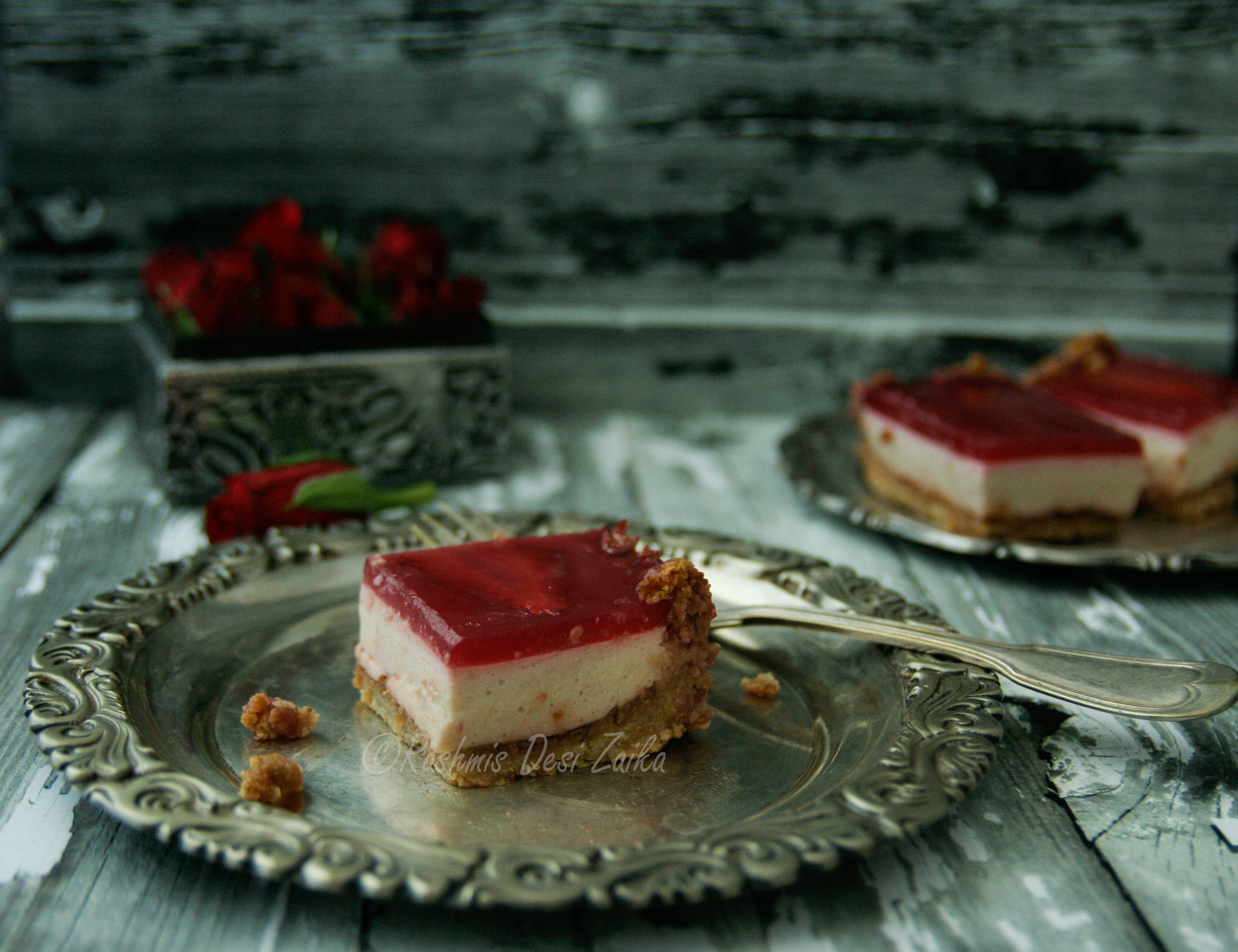 Valentine's day is just around the corner. Honestly speaking, I don't think that the occasions celebrating love should be restricted to just one day in the year. It is something that should be celebrated every single day and may be..may be one day in a year you can do something a little bit more special!!
So, for this special day, I am planning to make this dessert for my dear husband. As, I might have mentioned in my earlier posts, he is not very fond of sweets and there are few things he does not enjoy eating. So, this makes things a bit interesting (I mean challenging), trying to figure out dessert recipes that he would enjoy.
The recipe that I am sharing here and I will make for him is of course a dessert, come on, its day of love..it has to be sweet. But, my twist to it are addition of flavors that in some way symbolizes love, it has sweetness, it has crunch, dash of rosewater-for extra love and finally some tartness from pomegranate to balance the sweetness.  
So, here is the recipe..
Ingredients:
For oatmeal base
125g rolled oats
60g flour
100g sugar
110g butter, softened
1 tsp corn starch
¼ tsp baking powder
½ tsp salt
For pomegranate mousse
180g chocolate
90 ml milk
200 ml cream
150 ml pomegranate juice
4 gelatine sheets
2-3 tbsp pomegranate molasses
Fresh strawberries, thinly sliced
For pomegranate rosewater gel
200ml pomegranate juice
2 tsp rosewater
2 gelatin sheets
Method:
For oatmeal base
Grease a tray 20×20 cm and line it with a baking paper.
In a mixing bowl add together rolled oats, butter, sugar, flour, baking powder and salt. Mix it well. Press the mixture into the prepared tray into a thick and even layer, around 2 cm thick. If the pan you are using is of slightly smaller size, you may adjust the amount of mixture to use, by keeping out some so that the layer is not too thick. Place it in the fridge for few minutes, to get nice texture.
Heat up the oven to 180C. Bake it in the oven for 10-15 minutes until it golden brown in color. Once ready, take it out of the oven and while it still hot use the back of the spoon to smoothen the surface. Let is cool down.
For white chocolate pomegranate mousse
Place the gelatin in cold water and let it bloom for 3-5 minutes.
Place the roughly chopped white chocolate in a bowl and place it over a pan of gently simmering water to melt it. Alternatively, can be done by heating it up in short busts in a microwave.
Meanwhile, place the milk in a small pan and heat it up on low to medium heat. Remove from the heat, add in the gelatin. Mix it well to combine and then add melted chocolate. Stir it well to form homogenous mixture and set it aside to cool.
Once cooled (under 20C) use a rubber spatula to gently fold in the whipped cream, in two parts, until well combined. Mix in to the mixture freshly squeezed pomegranate juice.
Drizzle few generous tablespoons of pomegranate molasses on the surface of oatmeal crust. Then pour the mousse mixture over it, gently shake to level off and let it set in the fridge for 20 minutes. Place thin slices of fresh strawberries on top of the mousse.
For pomegranate rosewater gel
Place the gelatin in cold water and once it is bloomed add few tablespoons of hot boiling water to melt it out.
In a bowl, mix together pomegranate juice and rosewater. Add in the melted gelatin and pour it on top of the set mousse. Gently transfer it to the fridge and let it set for 10 minutes.
Serve this sweet and slightly sour dessert to your beloved people with love.
Preparation Time: 30 minutes 
Cooking Time: 1 hour (extra for setting)
Makes: 10 portions 
---