Paneer Corn Potli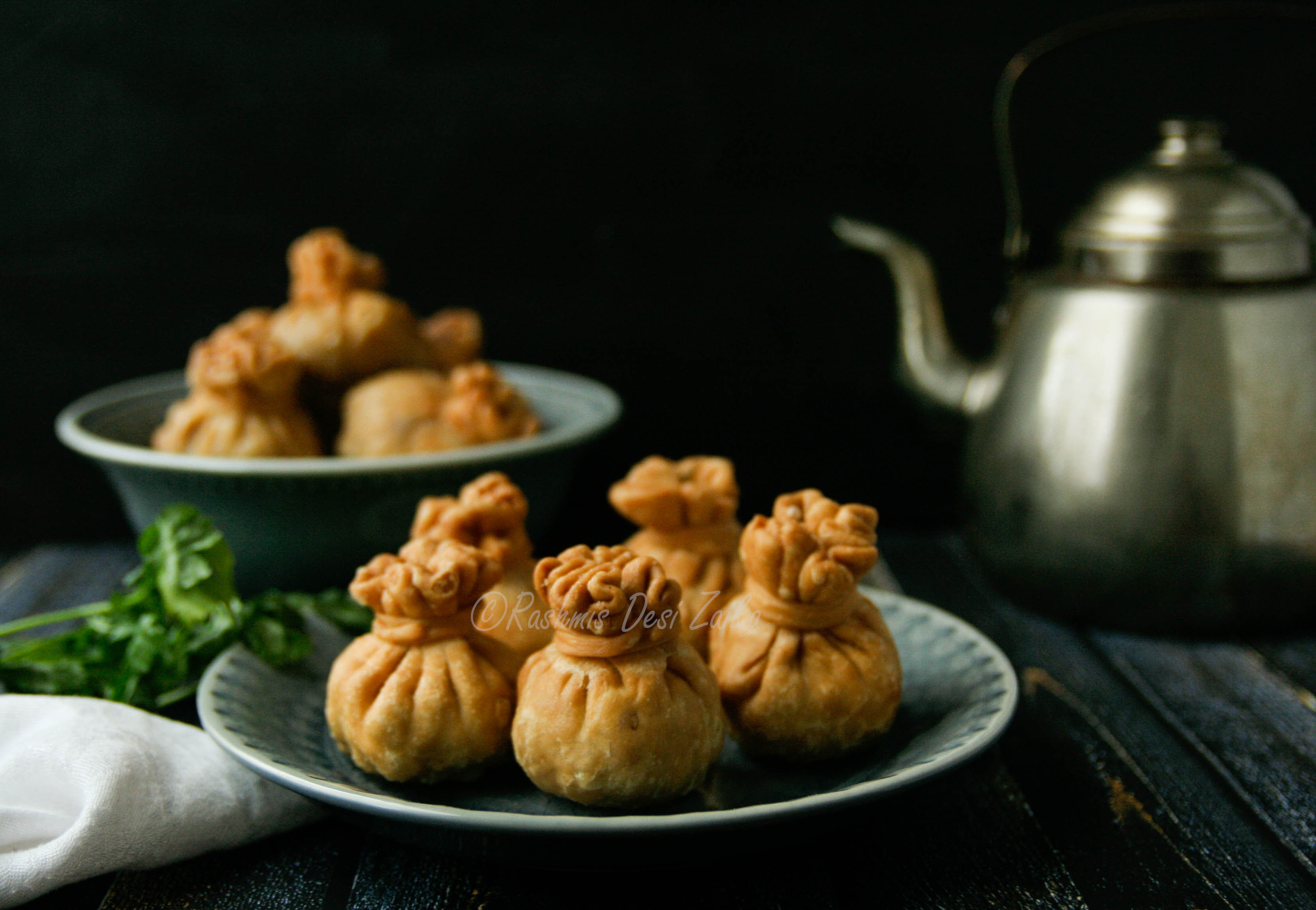 Today's post is about one of my favorite, tea time snacks. You know in India we love our tea and that is usually accompanied by something small to munch on, could be savory snacks, cookies or samosas.
I have been living away from India for a long time and somehow lost my habit of tea time snacks….you know things change with kids in pictures as life goes around with their timetable but I do enjoy once in a while bowl of bhujia with my tea 🙂 
However, It is still the same story when we are visiting India or my family visits here. These are my mother's words, 'tea feels incomplete without some snacks' and I would say fior her spicier the better. Fortunately, times are such that it is possible to buy all the Haldiram snacks in this Northern part of Europe. However, it is so nice to make sometime things on your own and especially the ones with some twist.
My husband loves these snacks and he prefers the ones with crunchier texture rather than buttery ones. So I tried making for him these paneer-corn potlis. Potlis would mean 'parcels' in English and it has quite crunchier texture, as the pastry is rolled out quite thin. I love paneer and that's why I used this as filling, but of course one can use any kind of filling.
These 'golden potlis' tasted so good; crunchy texture with creamy filling and addition of corn gave nice sweetness.
So, here is the recipe..
Ingredients:
For the pastry
150g all-purpose flour
1 ½ tbsp oil
½ tsp salt
For filling
100g paneer, crumbled
75g frozen corn
1 small onion, finely chopped
2 cloves garlic, finely chopped
½  tsp cumin seeds
1 tsp coriander powder
½ tsp chili powder, according to taste
1 tsp mango powder
½ tsp garam masala
1 tbsp fresh coriander, finely chopped
2 tbsp oil
Oil for frying
Method:
For dough
Mix flour and salt together into a bowl. Add in the oil and combine it together by running your fingers through the mixture. It should form crumbles.
Now add water, little at a time (30-40 ml) to combine the flour together. The dough should not be very soft and be non-sticky. Cover the dough with kitchen towel and let it rest for 15 minutes.
For filling
Heat 2 tbsp of oil on medium heat in a pan and add cumin seeds to it. When they start to brown up add in the chopped garlic. Let it cook for a minute and then add in the chopped onions. Fry it until they are soft and translucent and then add in the corn. Cook it for few minutes. Reduce the heat and add in coriander powder, chili powder and salt. Stir it for a minute or two and then mix in the paneer. Let it cook for couple of minutes; mix in garam masala, mango powder and fresh coriander. Take it off the heat and set it aside.
For making potli
Divide the dough into 11 portions and shape them into balls. Leave one portion to make the dori of the potli
Roll out one ball with a rolling pin into a thin circle. Holding rolled dough in the palm of your hand place 2 tbsp of the filling in the center. Apply water just under the edges of the circle and gather the edges by forming plates while gently pushing the filling with your thumb. Bring all the plates together by squeezing the dough together. Repeat with rest of the dough in the same manner.
Roll out the last portion into thin circle and cut it out as long, thin rope and wrap it around the neck of the potli.
To fry the potlis, heat enough oil in a wide, heavy-bottomed vessel. The oil should be hot but not too hot. Keeping heat at medium to high slowly drop 3-4 potlis into the oil. Turn them around few times to cook them on both sides. They should be golden brown in color. Remove from the oil and drain them on paper towels.
Serve them hot. Enjoy!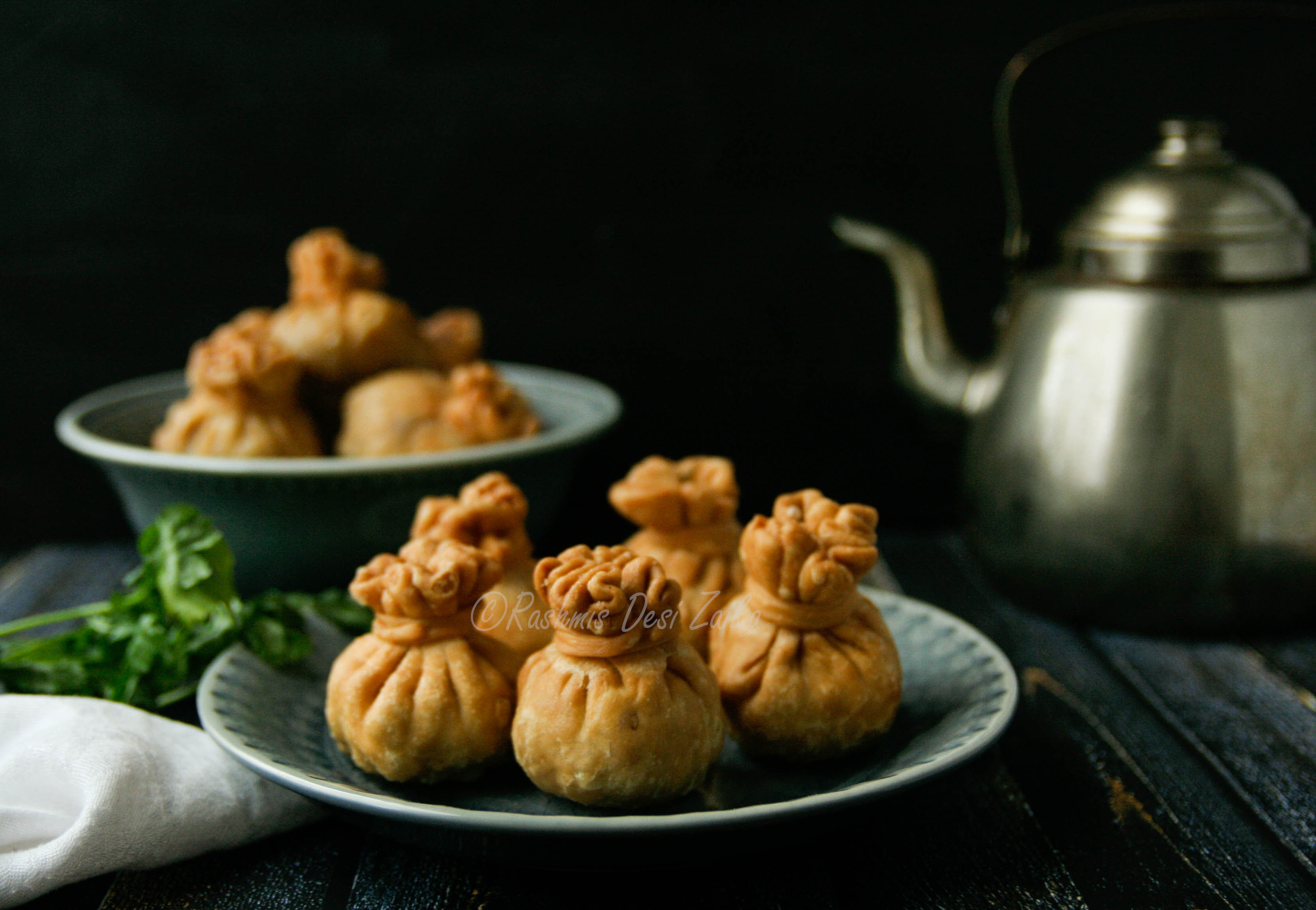 Preparation Time: 30 minutes
Cooking Time: 30 minutes
Makes: 10
---