Murgh Kali Mirch-Black Pepper Chicken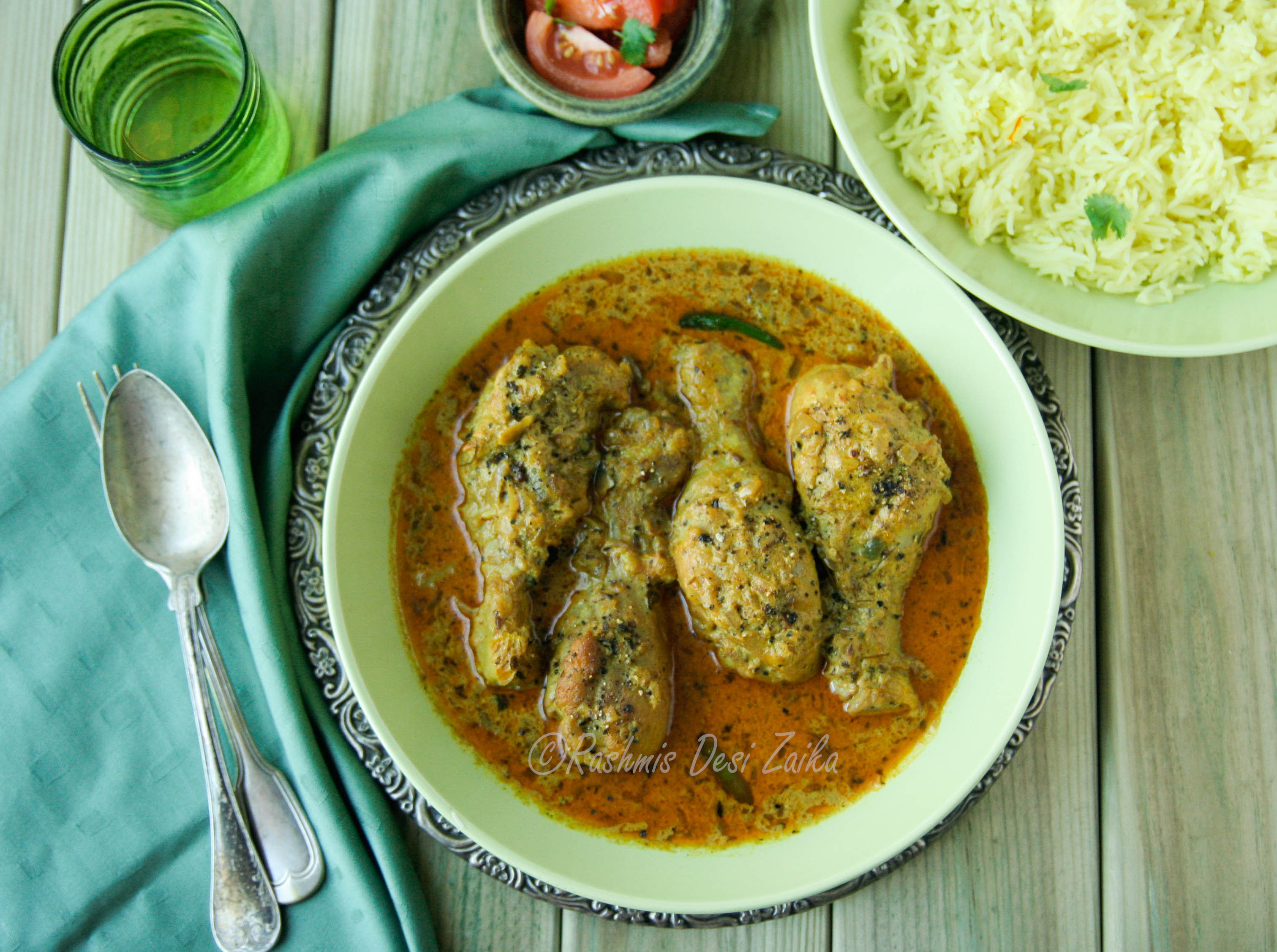 Its now after all the Christmas and New Year celebrations and finally winter has come to Finland. It has been so cold last week here when the temperatures have really dropped down. 
What really helps in this cold weather? Any guesses? Well for me a bowl of warm and spicy food, especially Indian curries. That is exactly what we did last week when I made spicy kali mirch chicken.
When I started cooking meat dishes years ago, chicken was one of the first thing that I tried and murgh kali mirch was one of the first dishes I made for my dear husband. At that time, for cooking non vegetarian Indian dishes my source of recipes was internet as I didn't have much knowledge and experience in making them.  Even though I did try to make them with my 'skills from vegetarian sides' but it didn't always worked. I still remember the image of the murgh kali mirch, really boring, bland and most likely not the best tasting dish, even though I bet my husband did like it at that time. 
Over the years, I have been practicing and learning how to cook non-vegetarian Indian dishes and I am still learning. The recipe today that I am sharing here is result of my countless attempts and I still do not know if it tastes like the ones in India, but it tastes awesome. I just loved the balance of flavors; it has richness from the yoghurt, heat from the black pepper and of course falling-of the bone chicken. Just loved the color of the gravy too!!
Also this recipe is very close to me as it was one of the first dishes I made for my husband and of course this one just shows how far I have come from the one made years ago.
It's just perfect for this chilly weather…
Here is the recipe.
Ingredients:
7-8 chicken drums (800-900g)
For marination
1 tbsp lime juice
1 tsp black pepper corns, freshly crushed
1 tsp salt
½ tsp turmeric powder
For gravy
2 medium onion, finely chopped
2 bay leaves
1 tsp cumin seeds
1-2 green cardamom
1 black cardamom
½ cinnamon stick
1tbsp ginger paste
1 tbsp garlic paste
1-2 green chili, cut into half
1.5 tbsp black pepper corns, coarsely crushed
1 tsp kasuri methi (dried fenugreek leaves)
1 tbsp coriander powder
1 tsp turmeric powder
1 tsp salt (according to taste)
1 tbsp tomato paste
300g thick yoghurt, whisked
2 tbsp cream
4-5 tbsp oil
3 tbsp ghee (or butter)
Method:
Place the chicken in a deep bowl and add all the ingredients for marination. Mix it thoroughly and let it marinate on kitchen table for 30 minutes to an hour.
Place a non-stick pan or a heavy bottom pan on medium-high heat and heat up the oil. Add marinated chicken pieces to the oil and fry on medium-high heat until they get a nice sear and have lightly golden brown color. Take it out and place it in separate container. Keep it aside.
In the same pan add ghee or butter. Add bay leaves, cumin seeds, green cardamom, black cardamom and cinnamon. Fry it for a minute or two, until you can smell the aroma of the whole spices. Be careful not to burn the spices.
Add slit green chili and fry it briefly and then add chopped onions. Fry it until soft and translucent. Add ginger and garlic paste. Sauté it for a minute.
Reduce the heat and then add coriander powder, turmeric powder and 1 tbsp of coarsely crushed black pepper corns and salt. Cook briefly and then mix in tomato paste and whisked yoghurt.  Stir well to combine everything.
Add in chicken pieces and little water (75-100ml). Cover the pot and cook until the chicken on medium heat until tender and falling of the bone, around 25-30 minutes. Adjust the consistency of the gravy and  more water if needed.
Gently crush the kasuri methi in the palms of your hand and add to the gravy together with honey and cream. Add remaining crushed pepper corns and adjust seasoning if needed. Take off the heat.
Serve it hot with rice or roti. Enjoy!!
Preparation:  30 minutes (Extra for marination)
Cooking time: 45 minutes 
Serves: 4 portions
---