Tempered Hummus Dip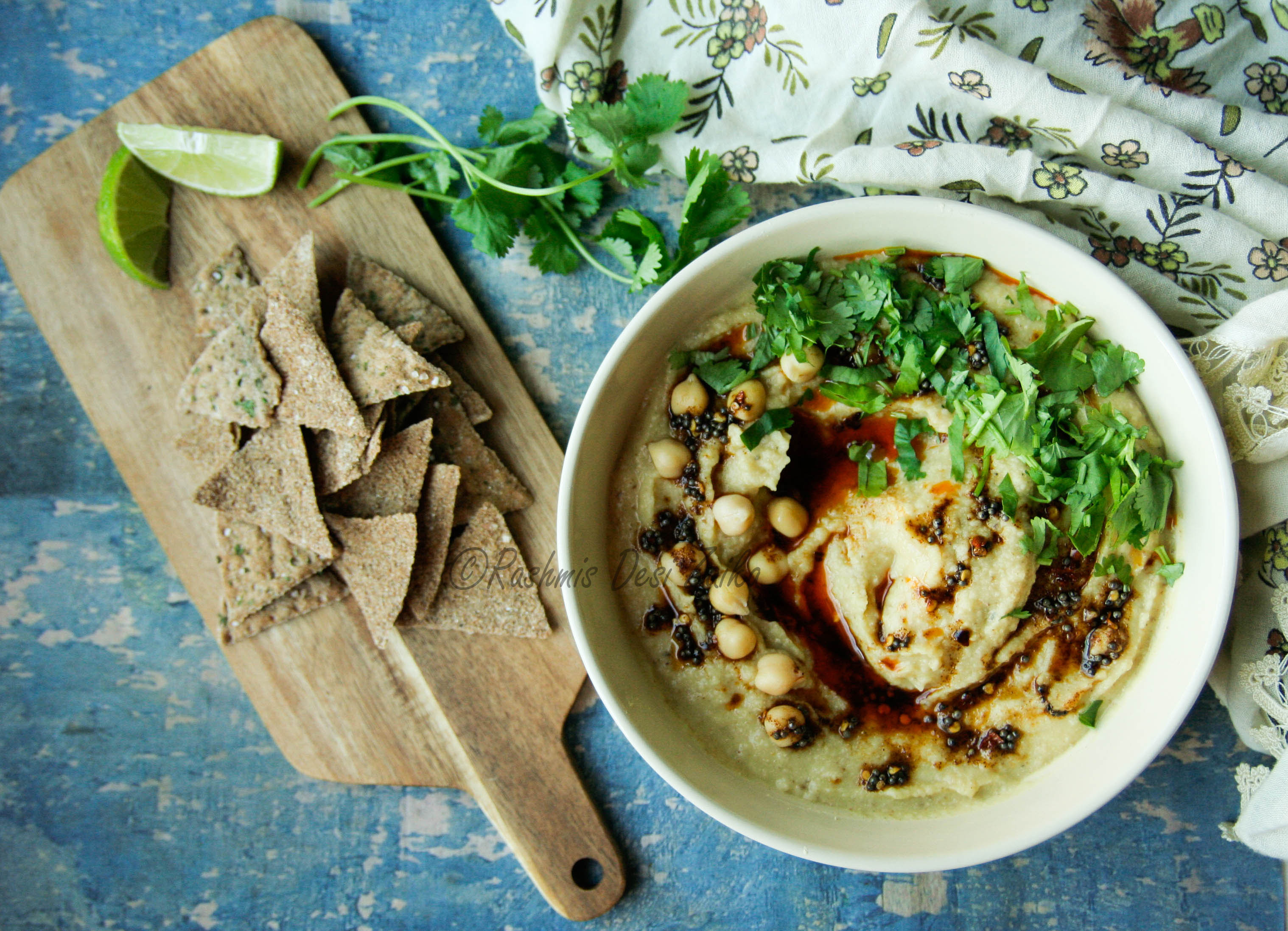 Happy holidays to everyone!! Hopefully you all are having wonderful holidays with your friends and family and of course enjoying good food. It is just festive time of the year!!
Today's recipe is quick and easy one to make and would just work a wonderful dip for your New Year's party. I have been thinking of making it for a while and finally managed to give it a go and trust me it tasted awesome.'
I first tasted hummus when I went with some friends to a Mediterranean restaurant in the US and just fell in love with it. It was just sooo good!! My favorite one is simple hummus made with lemon and garlic.
As you might know that I love experimenting with spices in food, today's recipe of tempered hummus is just doing that. Don't get me wrong I do love a simple hummus but just by adding few spices it takes the humble hummus to another level. Just tasted awesome and absolutely loved the color!!
Here is the recipe.
Ingredients:
350g cooked chickpeas
3-4 cloves of garlic, finally grated
1-2 tbsp lime juice
1 tsp salt (according to your taste)
2 tbsp oil
½ tsp black pepper
3/4 tsp cumin seeds, toasted and crushed
1 tsp coriander seeds, toasted and crushed
1 tsp whole mustard seeds
¼ tsp. red chili flakes
¾ tsp paprika powder
1-2 tbsp coriander leaves, finely chopped
Method:
In a hand blender or a food processor blend the chick peas with little salt. Add a little water in between to get right thickness, according to your liking.
Place it in a bowl and mix in grated garlic, lime juice, cumin powder, coriander powder, black pepper and adjust the seasoning.
For tempering heat up the oil in small pan on medium heat. When the oil heats up add in the mustard seeds and stir gently for a minute or two. When the seeds start to split, close the heat and add in the paprika powder and red chili flakes and take it off the heat. Be careful not to burn the spices. Once the tempered oil mixture cools down pour it over the hummus and garnish with some fresh coriander.  
Enjoy this dip with crisps or your favorite flat bread!!
Preparation Time: 5 minutes
Cooking Time: 10 minutes
Makes: 4 portions
---