Caramelly Risotto Rice Kheer-Rice Pudding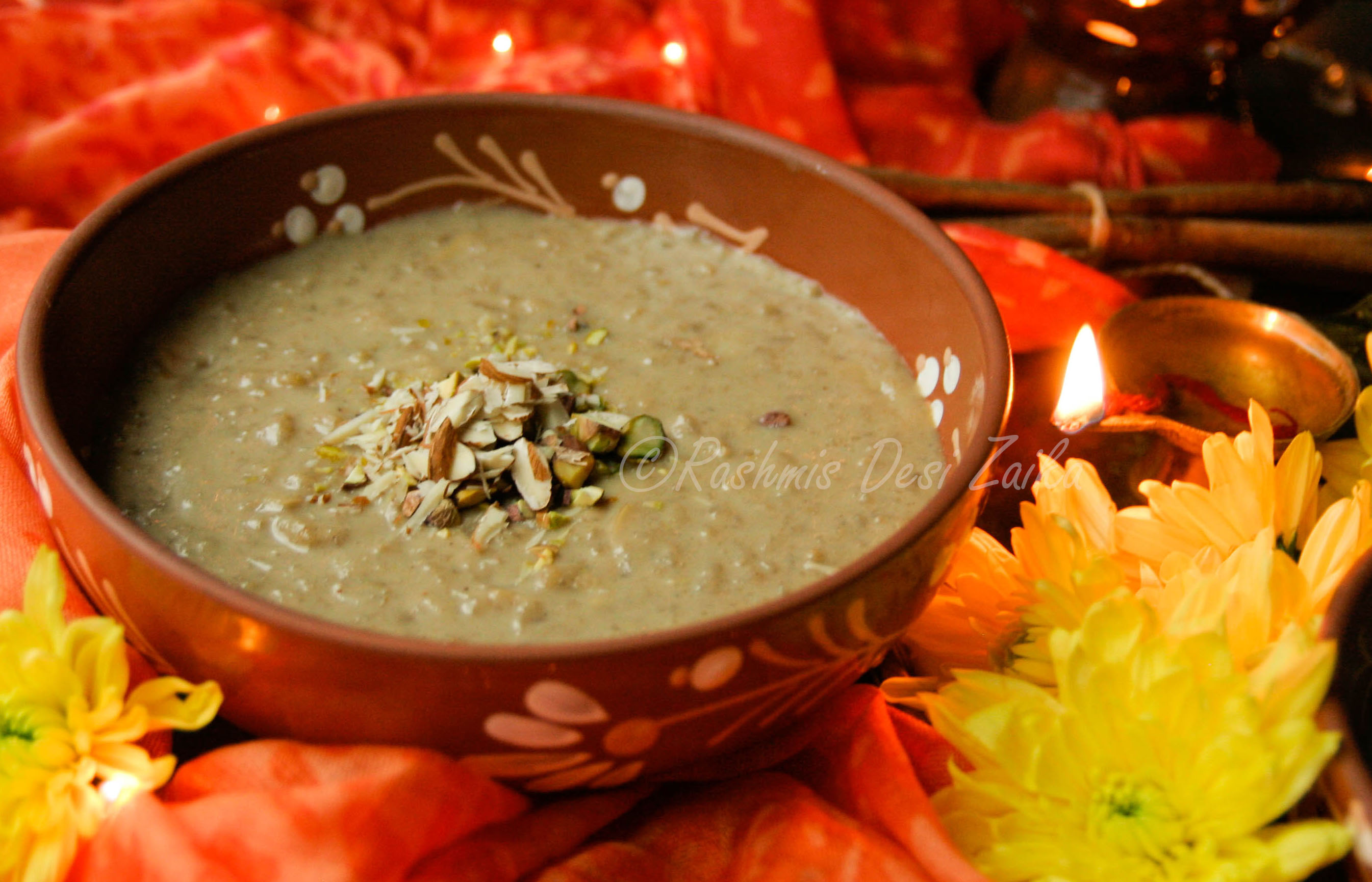 Diwali or Deepawali is brightest and one of the biggest festivals of India, which is celebrated with utmost joy and excitement. 'Deep' in Deepawali means diya which is an oil lamp, usually made with clay, Deep signifies light and so this festival is also called as 'festival of lights'-it is grand, vibrant, colorful and so full of energy.
When there are festivities in India, there has to delicious food and of course no festival is complete without sweets. When talking about Diwali, it brings so many memories from my childhood, that it is making me nostalgic. There were always new clothes to dress up, house was decorated with lights and diyas, so many sweets that our refrigerator was totally full, participating in family prayer, noise of crackers, going to the total illuminated market areas…
The festival preparations start days before the main festival night where people clean and decorate their houses. I remember my father was always so keen on putting lights in the house, it was very important for him. Then there were all the sweets and snacks prepared passionately at home not only for the family and but also packing a box for close friends and family.
The specialty meals prepared during these festival days differ a lot from regions and family but thing that is common everywhere is that it is abundant, rich and delicious.  
It is my first Diwali Recipe here and I am going to share today recipe of Kheer or rice pudding. This recipe is different than the traditional one, which is made by slowly cooking rice in milk with addition of spices like cardamom. This one is made with risotto rice which has high starch content and hence more creamy kheer. Rice were first toasted and then cooked in almond milk sweetened with jaggery instead of normal sugar, which gives it rich, caramelly and dark flavor. It tasted so good…just loved it..almost licked the bowl 🙂
Here is the recipe..
Ingredients:
80 gm arborio rice
225 ml heavy cream
500 ml almond milk
70-80 gm jaggery
35g butter
50 gm almonds, chopped
30 gm pistachio, chopped
¼ tsp cinnamon powder
Dash of fresh nutmeg
Method:
Put rice in a flat pan and toast it on medium-high heat for 10-12 minutes, until it is golden brown and smells toasted. Transfer it to another bowl and set aside.
Place the same pan back on medium heat and toast the chopped almonds. It should take 4-5 minutes. Transfer to another bowl and set aside.  Repeat the same with pistachios.
Melt the butter in large, non-stick or heavy bottom pot over medium-high heat and let it brown up. Add in the rice and stir it for a minute or two until the butter coats the rice. Pour in the cream and almond milk. Stir in the jaggery to the mixture. Let it cook on low-medium heat for 30-45 minutes, while stirring in between, until the rice softens and absorbs the liquid. Add more liquid if needed.
Once cooked, stir in the cinnamon and freshly grated nutmeg. Remove from the heat, stir in the toasted almonds and let it rest for 5-10 minutes. Garnish with toasted almonds and pistachio and serve. Enjoy!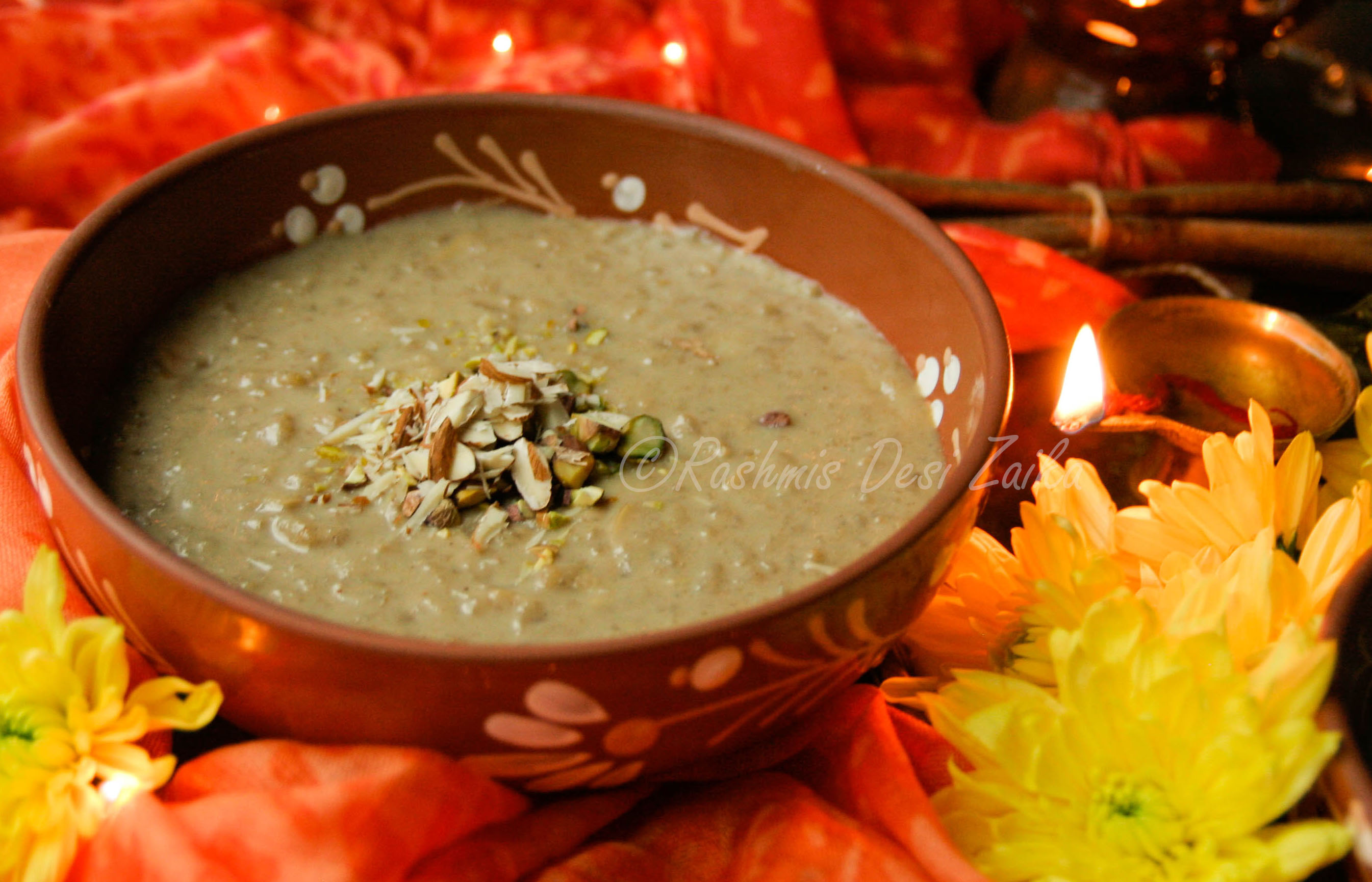 Preparation:  30 minutes
Cooking time: 45 minutes 
Serves: 4-6 portions
---