Spiced Egg Salad and Crispy Bacon Sandwich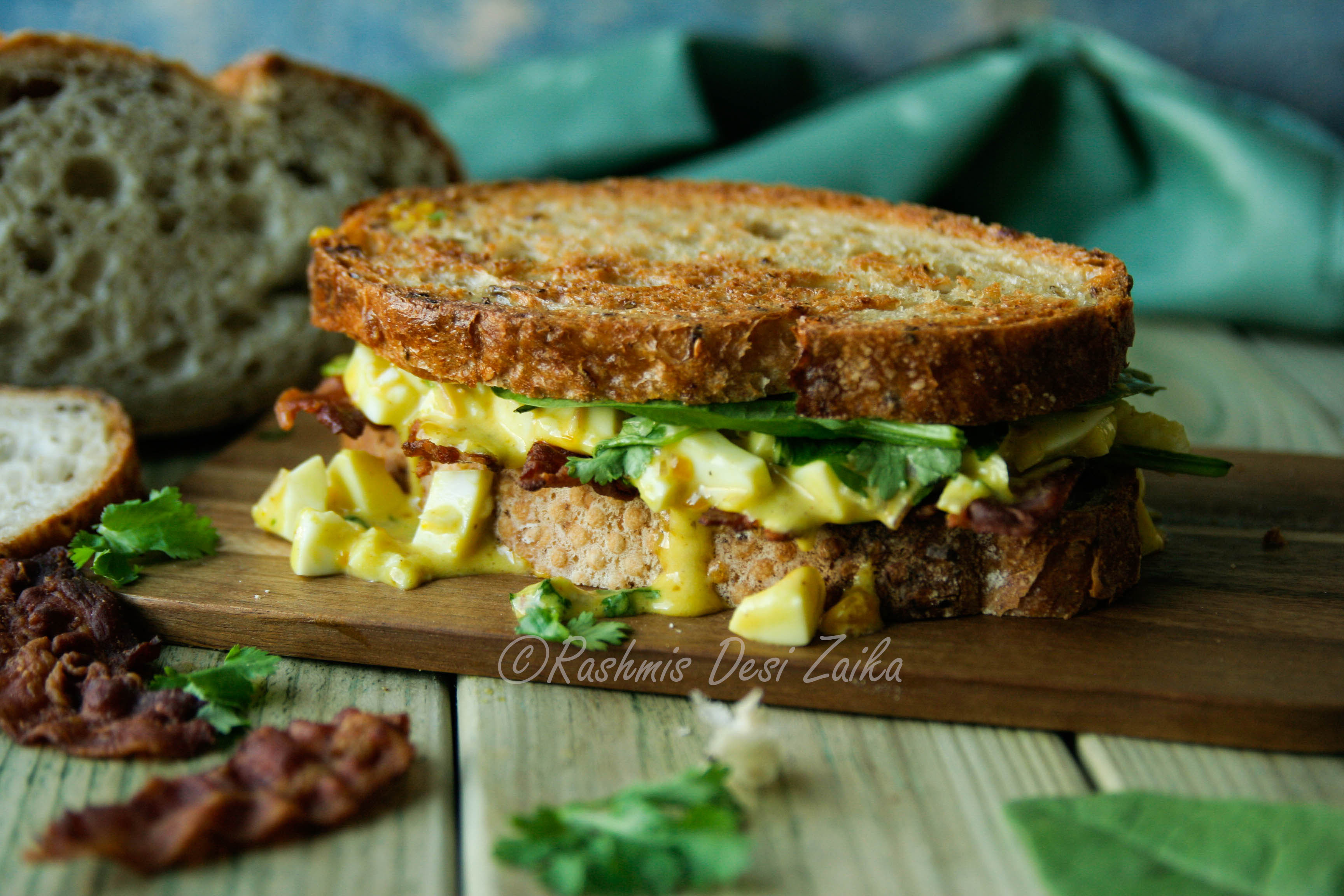 I have to start here my making a confession. When I first tried this Indian-spiced egg salad recipe, it was supposed to be just an experiment in my kitchen, but the final product was so yummy that I have to share it.
Egg salad is tasty, classic and total comfort food. I tasted it for the first time when I was studying in Germany and honestly didn't really like it. I can totally blame the mayonnaise used to make the salad. As I learned more about the recipe, I figured out that it had used store bought mayonnaise. So, at that time I could have categorized myself as 'mayonnaise hater'. My liking for mayonnaise started when I tasted homemade one, made by my husband. I still remember my reaction after tasting homemade mayonnaise….it was so good. 
I can totally affirm that homemade mayonnaise is pretty awesome. It only needs few ingredients and with a little bit technique and arm muscle you can transform these ingredients to such smooth, luscious and creamy spread. I think it is totally worth it.
As I love to experiment in the kitchen, especially with spices, this Indian-inspired mayonnaise is used to make the salad. The spices used in this recipe complements so well together and adds new flavor profile to the salad. Its spicy, smoky and its yummy!!!
The creamy, spicy egg salad with fresh shallots and salty crunchy bacon..its total deliciousness in the sandwich…
Here is the recipe…
Ingredients:
For mayonnaise
2 egg yolks
1 tsp Dijon mustard
75 ml oil
1 tsp salt
1 tbsp lemon juice
¾ tsp roasted cumin seeds, grounded
¾ tsp roasted coriander seeds, grounded
¼ tsp smoked paprika
½ tsp white pepper corns
¼ tsp chili flakes
¼ tsp garam masala
For salad
4 eggs
1 shallot, finely chopped
1-2 clove garlic, finely grated
Fresh coriander, finely chopped
For sandwich
Handful baby spinach leaves
Bacon strips
Bread, wholegrain 
Method:
For mayonnaise
In a medium bowl, whisk together the two egg yolks and Dijon mustard until mixed together. Now very slowly pour the oil, in very thin stream or in small batches, in the egg mixture while whisking it at the same time.
Once you have added half of the oil, whisk in the lemon juice-this will loosen up the mixture. Continue adding rest of the oil and whisk until egg yolks and oil have emulsified well. The mayonnaise should be very smooth, thick and pale yellow in color.
Season the mayonnaise with salt and white pepper. Mix in the rest of the spices-toasted cumin, toasted coriander, chili flakes, paprika and garam masala. Keep it aside.
For salad
In a medium size saucepan bring water to boil. Gently place the eggs in the water and reduce the heat to medium high and set your kitchen timer to 9 minutes. This cooking time will yield eggs with firm white and gooey yolks. You can increase time to 11 minutes if you prefer hard yolks.
Once the eggs have finished cooking strain the water and transfer them to another container with cold water.
Once cooled, peel the eggs and cut them into a medium size mixing bowl. I prefer egg salad with chunky pieces which gives nice texture. You can of course make it finer, if you like it that way. 
Gently mix in the mayonnaise, garlic, shallots and fresh coriander. Adjust seasoning according to your taste.
Crisp up some bacon strips. Place a medium frying pan on high heat and slowly lay out the bacon strips. Once the bacon releases the fat, reduce the heat to medium-high.
Once brown turn the strips around and cook the other side. Once bacon is cooked and crispy, transfer them to plate lined with tissue paper.
In the same pan toast the bread with the leftover bacon fat, by cooking it for few minutes.
For assembling the sandwich
Spread the mayonnaise on the toasted bread.
Lay out the crispy bacon strips followed by fresh baby spinach leaves.
Top with generous amount of egg salad and more spinach leaves. Either serve with open faced or top with the other slice.
Serve immediately. Enjoy!!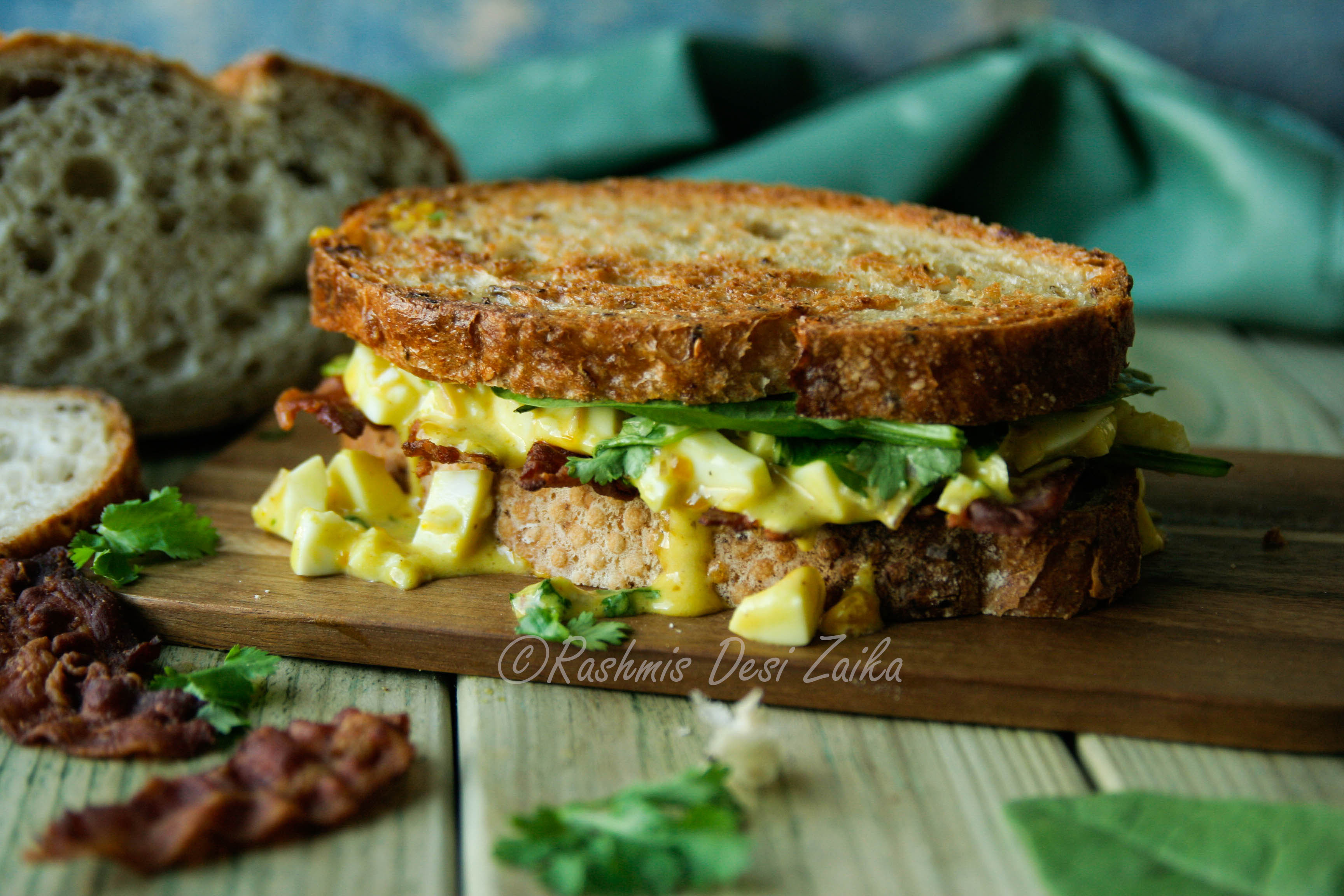 Preparation:  30 minutes
Cooking time: 20 minutes 
Makes: 4 sandwiches
---