Dark Chocolate Cookie Sandwich With Whipped White Chocolate Ganache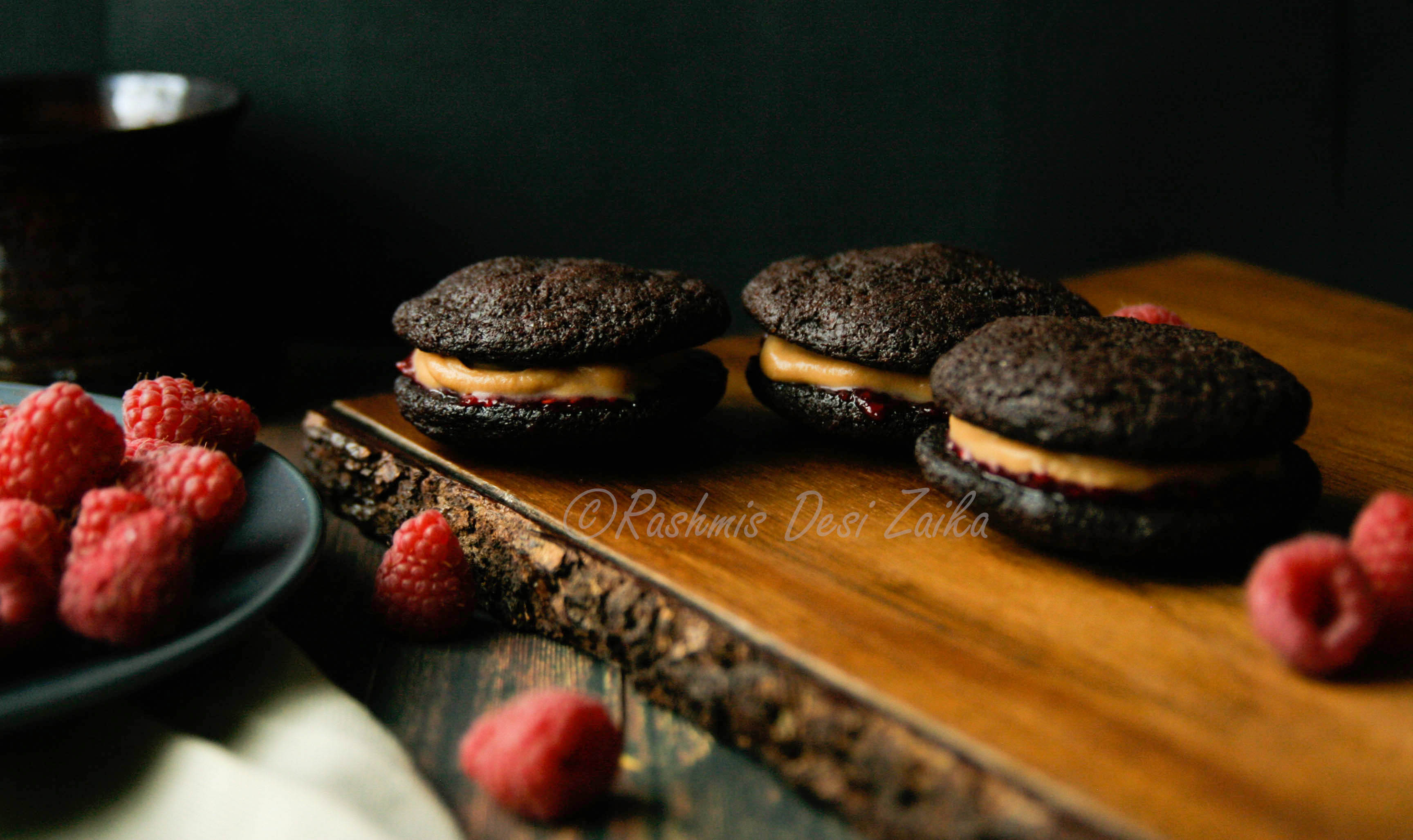 This recipe is for all die-hard chocolate lovers because it is all about chocolate. I love chocolate cookies but this recipe takes it to just another level. I have always been into dark chocolate and honestly never understood white chocolate. I find it quite sweet in taste and perhaps I missed the bitterness that comes from dark chocolate.
Only recently I have started to use it in desserts and I think that it can be used in many ways that enhances its taste and bring new flavors to the dish. In this recipe, I have caramelized the white chocolate low and slow in the oven, which transformed it into something totally different and tastes absolutely divine. Addition of hint of salt gave a nice sweet-salty taste to the ganache.
I absolutely loved the flavors in the cookie sandwich, bitter chocolate cookie, salty caramel ganache and freshness, tanginess from raspberry jam…
Ingredients:
For the cookies;
150g flour
90g unsweetened cocoa
150g caster sugar
70g brown sugar
150g 70% dark chocolate, chopped
3 tbsp. honey
½ tsp. baking powder
½ tsp. baking soda
80g butter, room temperature
1 egg
1-2 tbsp. milk
For whipped caramelized white chocolate ganache:
50g white chocolate
25 ml heavy whipping cream
50 ml heavy whipping cream, whipped
¼ tsp salt
For raspberry jam:
200g frozen raspberries
30g caster sugar
Method:
For the cookies:
Preheat the oven to 150C and line a baking tray with a parchment paper.
In a small bowl sift together flour, cocoa, baking powder and baking soda. Set it aside.
In another bowl, whisk together butter, caster sugar, brown sugar and honey. Add in the egg and whisk until the mixture is pale and fluffy.
Add in the flour-cocoa mixture in two batches. If needed, add in the milk and gently mix until everything is incorporated. Stir in the chocolate chunks into the mixture and gently mix all together. Refrigerate in the fridge for 30 minutes to an hour.  
Once the dough has chilled remove from the fridge and divide it into 30 portions. Gently roll it between your palms. Put them again in the fridge for another 15-20 minutes.
Place them on the prepared baking tray, 2-3 cm apart. Bake for 12 minutes. Remove from the oven and let them cool down.  
For whipped caramelized white chocolate ganache:
Preheat the oven to 125C. Spread white chocolate evenly in a glass container and drizzle ½ tbsp. of vegetable oil. Put it in the oven for 10 minutes, then remove from the oven and stir it with a spatula. Continue baking for 45 minutes to 1 hour, stirring every 10-15 minutes. The chocolate may look grainy or lumpy, but continue stirring and it should smoothen out.  Keep it in the oven until chocolate has dark caramel color. Remove from the oven and stir in the salt. Allow it to cool and transfer it to another bowl.
In a small bring 50 ml of heavy whipping cream to boil. Remove from the heat and pour over caramelized white chocolate. Whisk the mixture until smooth and creamy. Let it chill in the fridge for 15-30 minutes. Take it out and whisk the mixture, the color of ganache will get lighter. Gently fold in the whipped cream and will be light, smooth and creamy.
For raspberry jam:
To make the jam, place raspberries and sugar in a saucepan and set it over medium heat. Gently let it simmer, stirring in between, until raspberries have released all the juices. Let it on medium heat until all the raspberries have cooked and the mixture has reduced. Remove from the heat and set aside to cool down.
To assemble:
Take one cookie and spread a layer of raspberry jam first and top it off with white chocolate gananche. Gently place the second cookie on top and your sandwich is ready.
Enjoy!!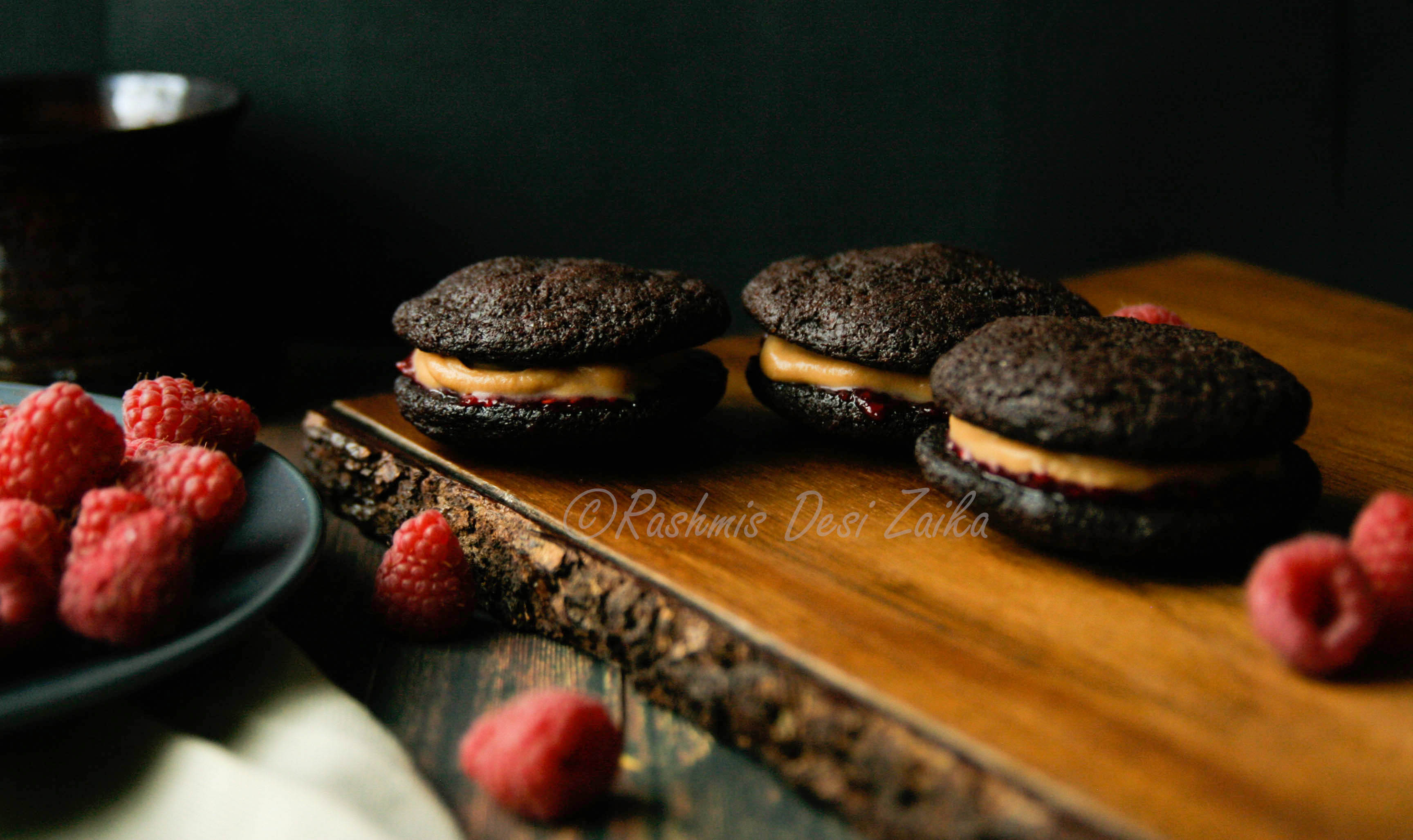 Preparation:  15 minutes 
Cooking time: 1 hour
Makes:15 sandwich cookies
---