Spicy Smoky Potatoes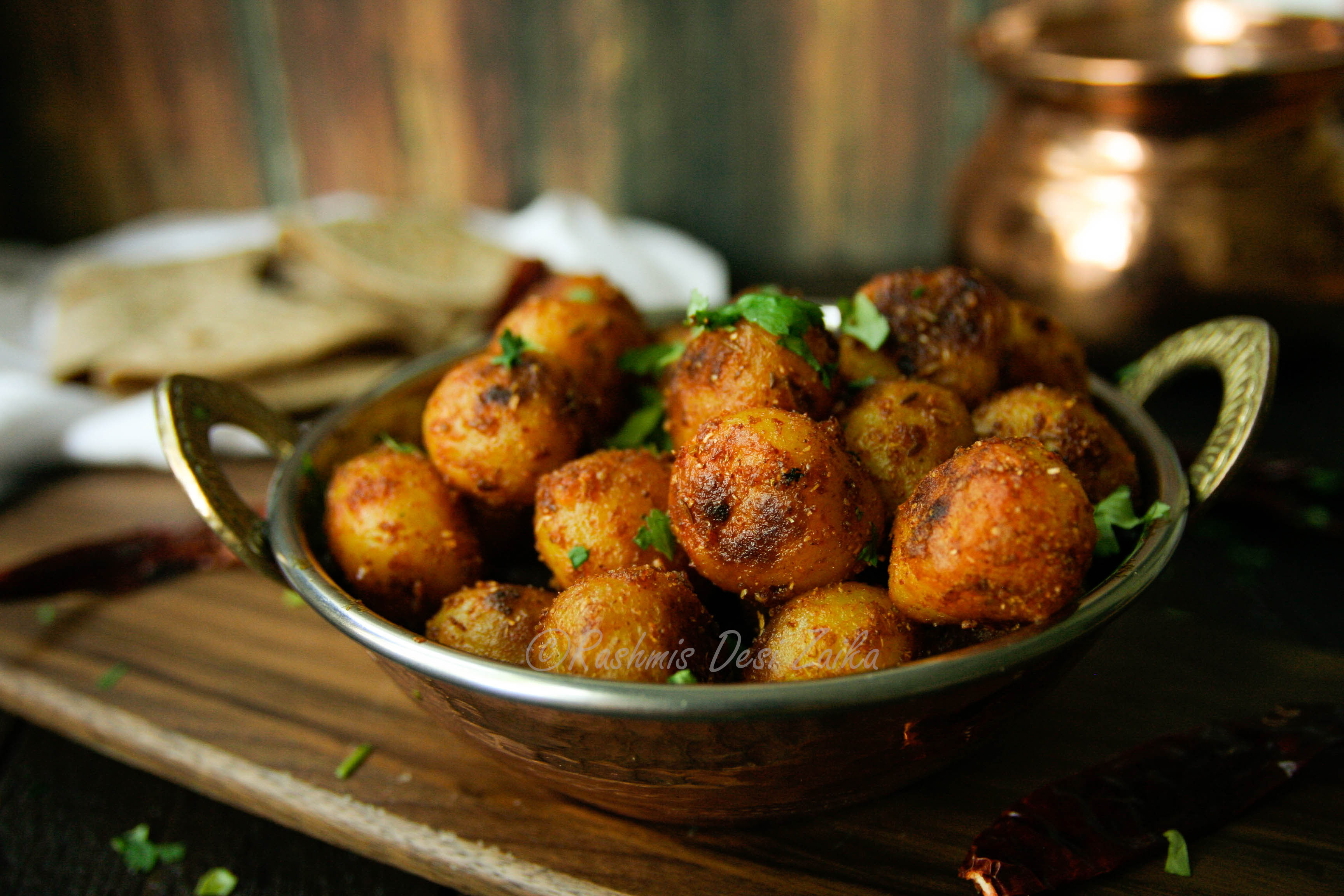 It came as a surprise to me when I first discovered that smoke is a flavor that could be added to any food. It was my husband who got a bottle of liquid smoke. I remember wondering what it is this liquid smoke. I think he used it when he was making his own barbecue sauce. Smoke flavor was something very new for me and I did not really know how to incorporate it in food. In my mind it reminded me of the aromas in India when we used to go for some wedding or some other events, where food was cooked on open fire, which gave it nice smoky flavor. Since then I have been trying recipes that incorporates smoke flavor. Of course the best would be to make on open fire or charcoal, but substituting with artificial smoke is practical when cooking inside an apartment.
This recipe here of spicy smoky potatoes is fusion of my two experiments in kitchen, one with potatoes and other with smokiness. My husband loves to eat the spiced dry potatoes and I am always trying for new recipes. I do have to say that this recipe is one of the best that I have made so far and for both of us this is our ultimate favorite one.   
The market places are full of new potatoes and I have used small new ones here, but normal potatoes can be substituted if new ones are not available.
Here is the recipe..
Ingredients:
500g small new potatoes
1 tsp. freshly grated garlic
¼ tsp. asafoetida
1 tsp cumin seeds
2 tsp. coriander seeds powder
1 tsp. cumin seeds powder
½ tsp turmeric powder
½ tsp. red chili powder (according to taste)
1 tsp. paprika
1-1½ tsp. smoked paprika
1 tsp. salt (according to taste)
1 tsp. amchur powder
2-3 tbsp. oil
Method:
In a large pot boil the potatoes in salted water until they are slightly softened but not mushed. Strain the water and let them cool down a bit. Peel the potatoes and keep them aside.
Place a non-stick pan over medium-high heat and add 2 tbsp of oil. Once the oil is hot add the boiled potatoes and let them cook on medium heat until they get nice crust on the surface, for 10-12 minutes. Take them out of the pan and set them aside.
Place the same pan again on heat and add remaining oil. Once oil is hot, add asafeotida and cumin seeds. Let them crackle for a few seconds. Add garlic and stir it until the raw smell is over. Then add coriander powder, cumin powder, paprika, smoked paprika, turmeric powder and chili powder. Cook the spices for few seconds.
Add the potatoes and mix everything together. Season it with salt. Add in the amchur powder and mix well.
Garnish with fresh coriander and serve with hot rotis.  
Preparation:  30 minutes
Cooking time: 20 minutes 
Serves: 4 portions
---