Lemon Poppy Seeds Layer Cake With Blueberry Compote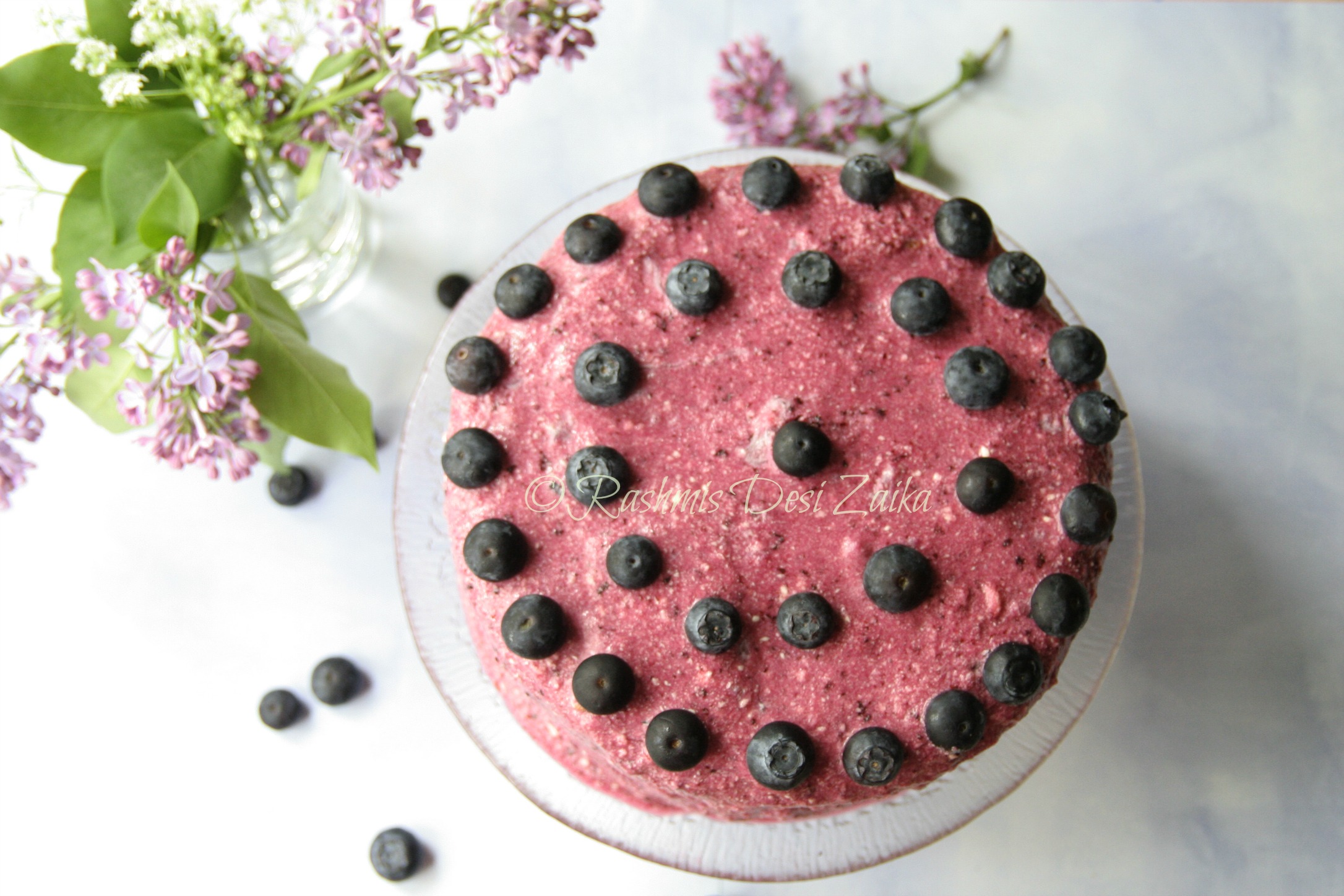 This past week has been quite busy with two back to back birthdays in the family, so I prepared many different dishes in last week. On Saturday our little boy turned one year old and we had invited some friends over to celebrate his birthday. Of course, whenever there are parties there is going to be good food. I spend a lot of time trying to plan the food for his special day, especially his birthday cake. He is so little and is still developing his tastes but one thing he likes is berries, especially blue berries.
So, I decided to make lemon layer cake with blueberry compote.  Addition of poppy seeds gave nice texture to the cake. The layers were brushed with fresh and zingy lemon glaze and the cake was covered with beautiful blueberry buttercream frosting.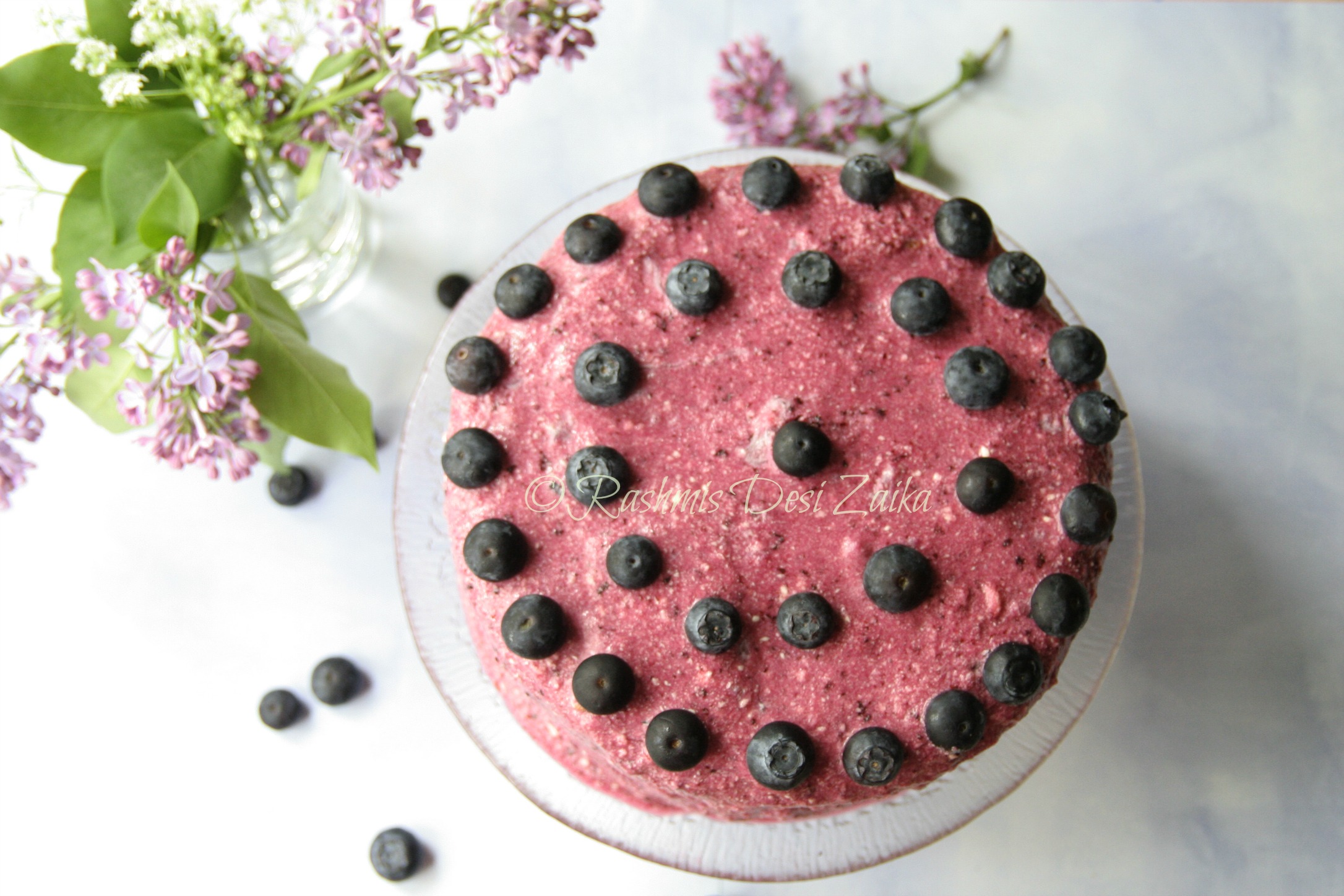 Here is the recipe..
Ingredients:
For lemon cake:
320g all-purpose flour   
300g sugar
2 tsp. baking powder
½ tsp. baking soda                          
1 tsp. vanilla essence
225g butter, room temperature                               
4 whole eggs, room temperature
2 egg yolks, room temperature
2 tbsp. poppy seeds
60ml milk
2 tsp. lemon zest
4 tsp. lemon juice
For lemon glaze:
40g sugar
2 tbsp. butter
½ tsp. lemon zest
2 tbsp. lemon juice
For blueberry compote:
300g fresh blueberries
40g sugar
1 tbsp. water
For blueberry buttercream frosting:
140g light cream cheese
100g butter, room temperature
150g icing sugar
75g frozen blueberry
1 tsp. lemon zest
2-3 tbsp. lemon juice
2-3 gelatin sheets, softened in cold water
1 tbsp hot water
Method:
Preheat the oven at 165ᵒ C. Grease, and line with parchment paper two 20 cm round baking pans. Keep them aside.
In a bowl, sift together flour, baking powder, baking soda and salt. Whisk and set the mixture aside.
In another bowl beat together butter and sugar for about 20-30 sec. Add the eggs, one at a time, beating well in between. Add vanilla, lemon zest and lemon juice. Mix well.
Mix in the dry ingredients, in batches, alternating with milk. Beat until the mixture is smooth.
Pour the batter in the prepared baking pans. Bake them for 20-25 minutes. To check if they are baked insert a toothpick-it should come out clean. Let it cool.
Prepare the compote and the glaze while the cakes are baking.
For compote place all ingredients in a saucepan and bring it to boil. Reduce the heat to medium-low and let it simmer until it is reduced to half, about 15-20 minutes. Let it cool.
For glaze boil all the ingredients. Keep it aside.
To assemble the cake, place the bottom layer of cake and brush with generous amount of lemon glaze. Spread evenly cooled blueberry compote and place the top layer of cake over it. Brush the top layer with lemon glaze and ice with blueberry buttercream.
Grind the frozen blueberries in a hand mixture.  Keep aside. In a bowl beat together softened cream cheese and butter, until creamy, for about 20-30 seconds. Add in the crushed blue berries, lemon zest and lemon juice. Mix well. Now add the icing sugar and mix well at low speed. Melt the gelatin sheets in 1 tbsp. of hot water. Mix it with the frosting mixture.  
Enjoy!
Preparation:  30 minutes 
Cooking time: 30 minutes
Serves: 8-10 portions
---