Paneer Bhurji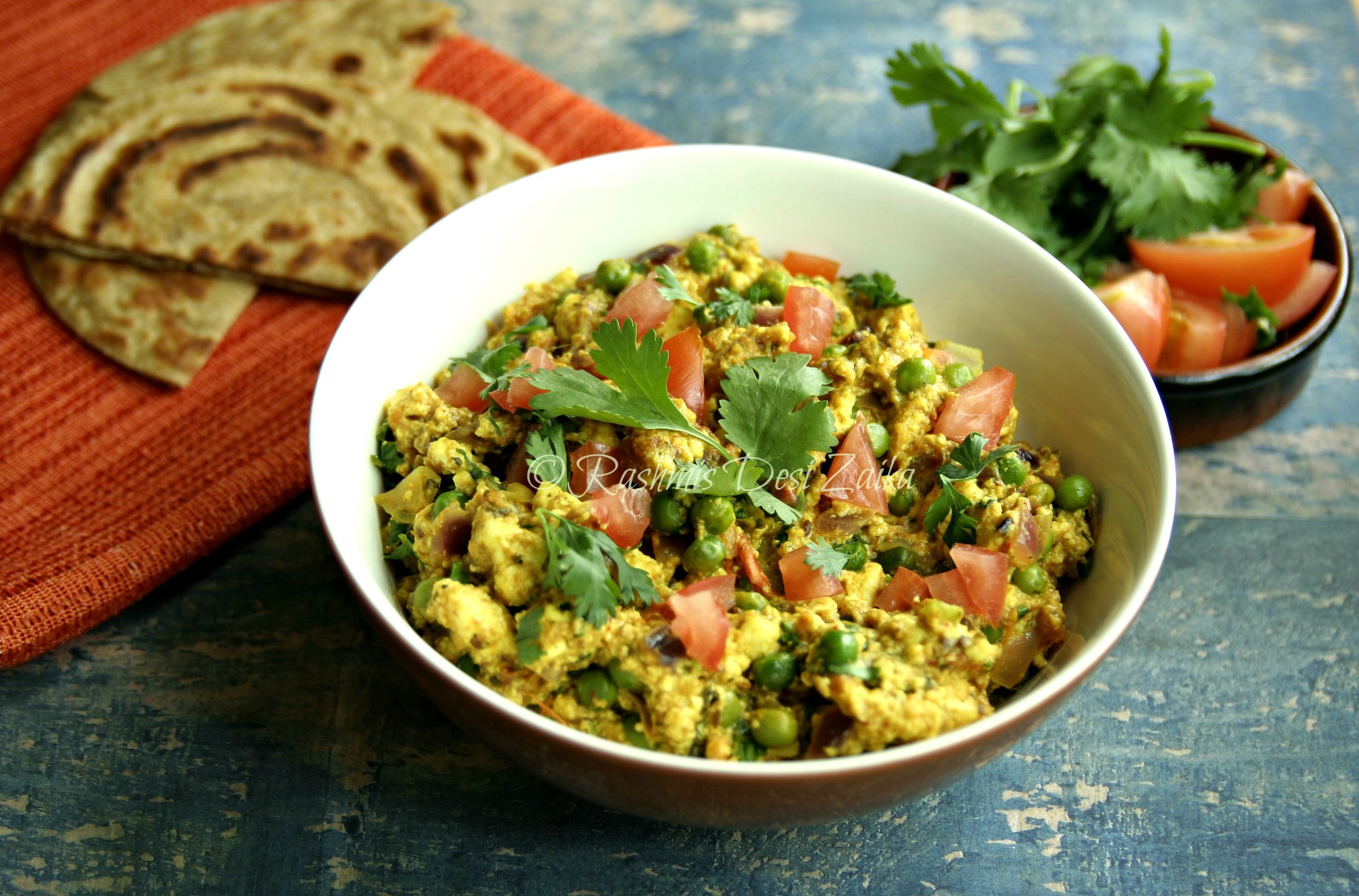 Today's recipe involves indulging in ever so versatile, humble and my all time favorite-paneer. If you have ever visited any Indian restaurant you would have definitely tried paneer dishes. Usually you can find dishes where paneer is simmered in various kinds of gravies imbued with aromatic herbs and spices. Even though today's recipe is simple but it is still flavorful and delicious. 
Paneer bhurji is a popular dish from North India where crumbled paneer is mixed in onions, tomatoes and aromatic spices.
This recipe of paneer bhurji is so simple and could be prepared in very little time. You know one of those moments when you are starring in the fridge, thinking hard and trying to figure out what to cook. I remember my mother making this recipe when she ran out of ideas.
For me this dish is total comfort food..
Here is the recipe…
Ingredients:
250g paneer, crumbled
1 large red onion (175g)
1 green chili, finely chopped (optional)
2-3 medium tomatoes (200g)
100g green peas
1 tbsp ginger, finely chopped
1 tsp. whole cumin
2 tsp. coriander powder
½ tsp. cumin powder
1 tsp. turmeric powder
1 tsp. red chili powder, according to taste
1½ tsp. salt (according to taste)
½ tsp. garam masala
1 tsp. amchur powder
1 tbsp. kasuri methi, dried
2-3 tbsp. oil
2-3 tbsp. finely chopped coriander
For garnishing, chopped coriander and tomato
Method:
Take a non-stick pan and heat oil. Add cumin seeds to it and let it cook for a minute. Add in the green chili and chopped ginger. Cook it on medium heat until ginger starts to soften up and you can smell the aroma.
Add in the onions now and sauté on medium-high heat for couple of minutes.
Add in the tomatoes and sauté for few minutes on medium-high heat until all the moisture evaporates. Now add in the peas and mix it in briefly.
Add in turmeric powder, chili, coriander powder, cumin powder, amchur powder and salt. Also add in crumbled kasuri methi leaves. Mix well.
Finally add crumbled paneer and mix it gently.
Just before serving mix in garam masala and garnish with fresh coriander and tomatoes. Serve it hot with parathas or roti.
Preparation Time: 15 minutes
Cooking time: 15 minutes
Makes: 3-4 servings
---