Slow Cooked Dal Makhani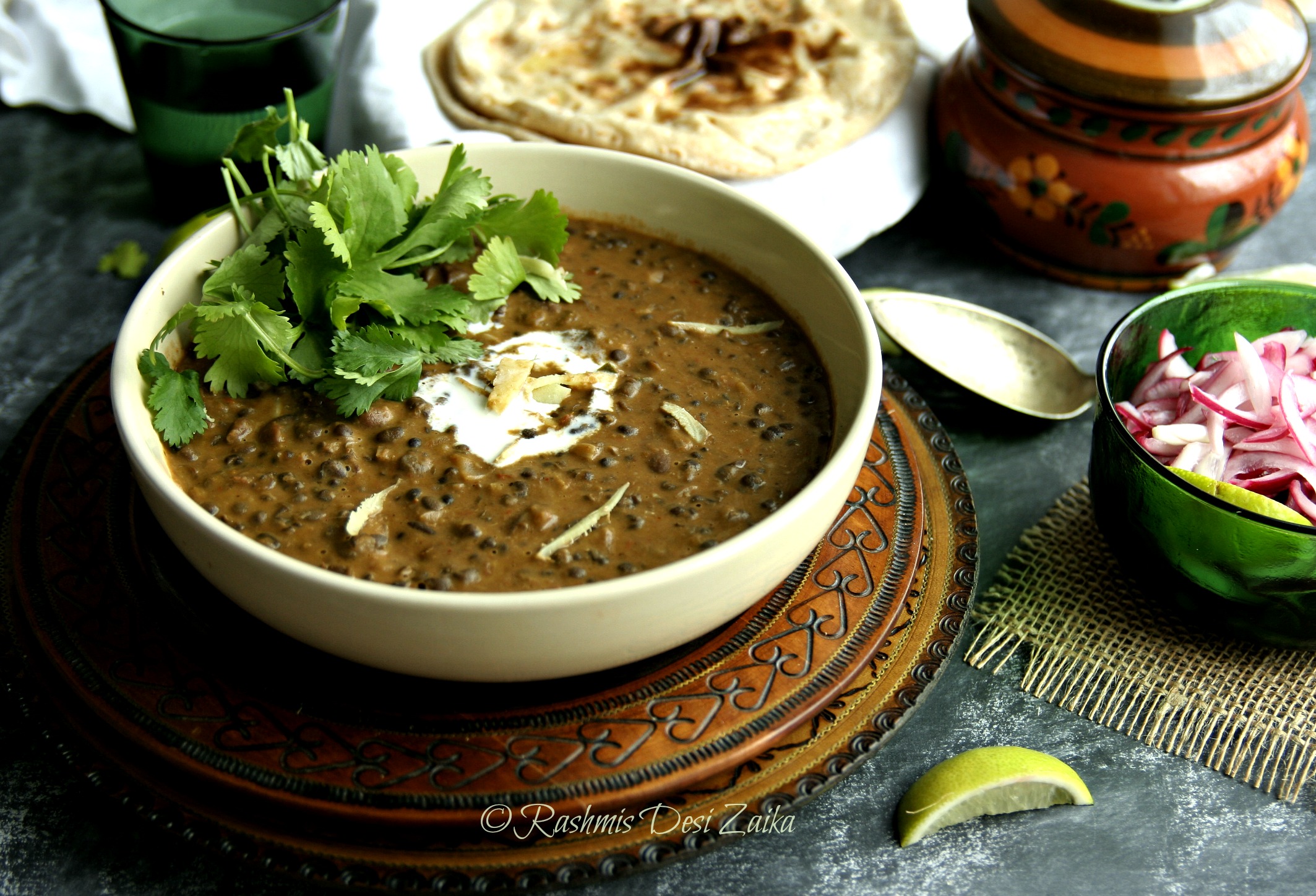 The recipe I am sharing here today is one of my absolute favorite and one any Indian, especially from the North simply loves. Dal Makhani comes from Punjab region in North India and is creamy buttery preparation made with sabut urad (black gram) and rajma (kidney beans). Being a Punjabi myself, I am in total love with this dish.
In one of the earlier post I shared recipe of masoor dal in pot and also shared my encounters of cooking in pressure cooker. While living in the US, I did not have pressure cooker, just did not get one. So, I never made dal makhani there. Whenever I felt like having it just had in the Indian restaurant there, which served very delicious food. When I moved to Finland, we went and bought a pressure cooker so I can make my favorite dishes, including dal makhani.
The problem with this lentil and few others is that they are quite tough and very difficult to cook in a normal pot. It can take really long time to cook without a pressure cooker. Before I had a pressure cooker I tried once making dal makhani in a normal pot and it was not easy and it just didn't taste right. When I made it for the first time dal makhani in a pressure cooker for my husband, he just fell in love with it. He called this dish at that time and still calls them as 'meaty lentils'.
When my mother visited me last time, we talked about how people used to cook food in earlier times when there were no time saving equipments, like pressure cooker. In her childhood times they didn't have pressure cookers and in my paternal grandparents home there were no gas stoves. She told me that they used to make it in pots and on fire, not that easy I guess. She also said that my grandfather did not like the dals prepared in pressure cooker.
After this discussion with my mother, I wanted to try making dal makhani without pressure cooker and with a taste that is simply divine.
So, here is the recipe.
Ingredients:
240g whole urad dal
60g rajma (red kidney beans)
1 tbsp. finely grated ginger
1 tsp. turmeric
2 tsp. salt (according to taste)
½ tbsp. lime juice
4-5 tbsp. cream
2-3 tbsp. chopped fresh coriander
½ tbsp julienned ginger for garnishing
For tempering:
1-2 tbsp.oil
75-100g butter
1 tbsp ginger, freshly grated
2 tbsp. garlic, freshly grated
1 green chili, finely chopped (optiona)
1 medium onion, finely chopped (100g)
2-3 tomatoes, grinded (150g)
1 tbsp. tomato puree
1 tsp. red chili powder (according to taste)
Method:
Wash both sabut urad and  rajma separately. Soak urad for 2 hours and rajma for 6 hours in enough water. Once both urad and rajma are soaked, heat up the oven to 170 ᵒC.
In a heavy pot meant to be used in oven, transfer both soaked sabut urad and rajma with 1 liter of water. Stir in the salt, turmeric and 1 tbsp of finely chopped ginger. Cover the pot and place in the preheated oven.
Let it cook for 1.5-2 hours. Check it once in a while and add more water if needed. Once cooked both urad and rajma would be soft. Take it out of the oven.
For tempering, melt in half of the butter with oil in a pan on medium heat. As it starts to heat up add in finely chopped green chili. Cook it for a minute and add in ginger and garlic. When cooked add in onions and sauté them till they are softened. Add in now both crushed tomatoes and puree and cook it on medium heat until all the moisture has dried and oil starts to splatter. Reduce the heat and stir in red chili powder. Cook it for a minute and mix in this cooked spice mixture to the pot of cooked dal.  Mix in the rest of the butter and cream to the tempered dal. Add in  more salt if needed. Finally add lime juice and freshly chopped coriander.
Just before serving add a dollop of cream and garnish with fresh ginger.
Serve it with roti and pickled onions.
Preparation:  30 minutes, extra for soaking 
Cooking time: 2-3 hours
Serves: 4-5 portions
---