Gujiya-Holi Special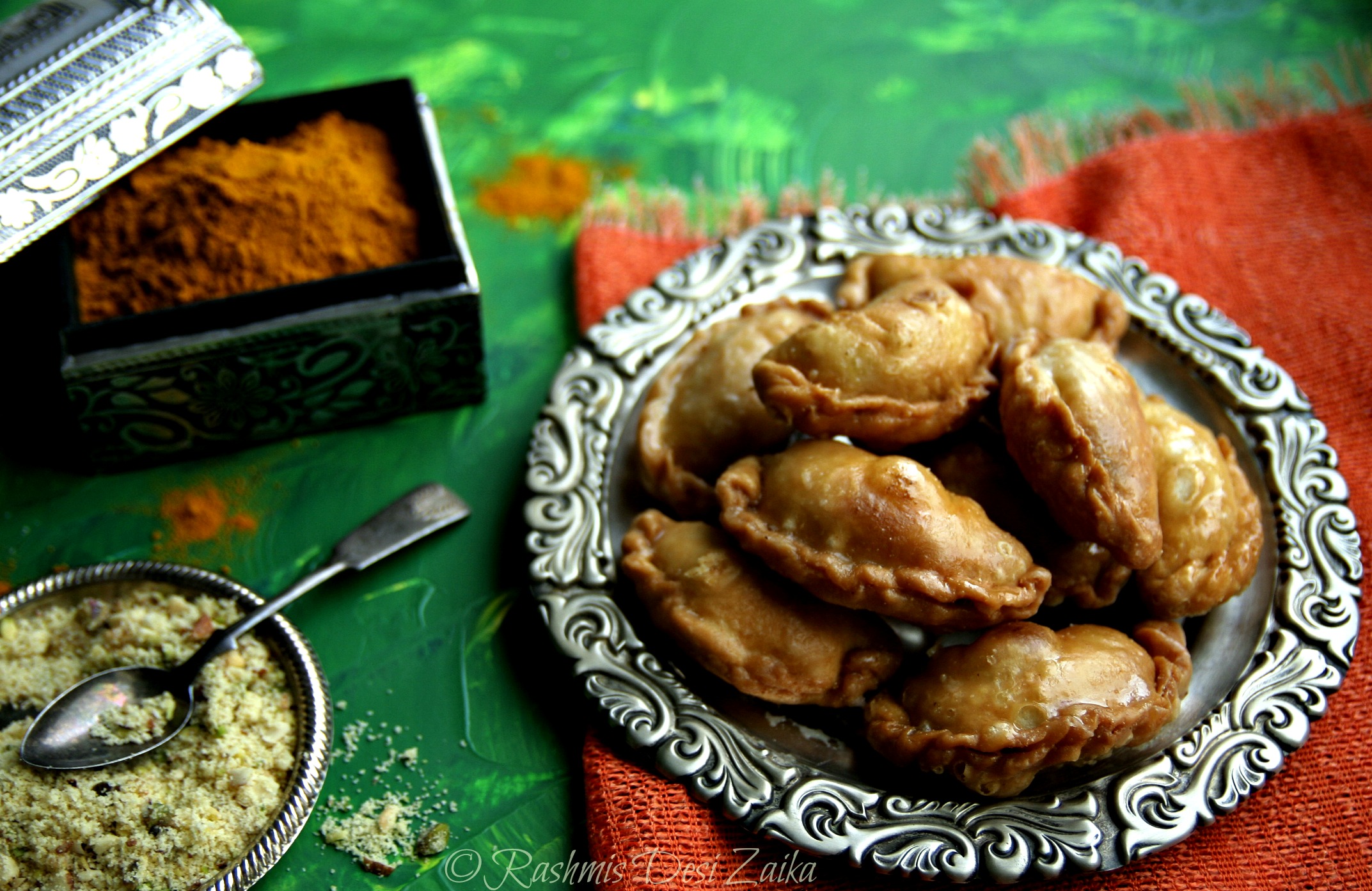 Today in India we celebrate Holi, which is a Hindu festival that marks arrival of spring. Holi is known popularly as the Festival of Colour and is celebrated over two days; Holika Dahan and Rangwali Holi. Holika dahan takes place the night before Rangwali Holi when a bonfire is lit which symbolizes victory of good over evil. The next morning people celebrate Rangwali Holi with colors and water.
It is the time of festivities with color, love and lot of sweets. This is not a surprise as in all our festivals there are always sweets.
Growing up in India, especially as a kid, we always had so much of fun on Holi, playing with gulal (color powder), mother making color water to throw at each other and of course sweets. For me there are so many memories associated with the festival. During this festival time there is  a huge selection of sweets but there is one sweet, gujiya, which I always associate with Holi. I very well remember my father always wanted to have it on Holi.    
Being away from India during these festival times I miss all the action, fun and nice food. Until recently I have tried to make these sweets. It would be nice way to tell my kids about Indian culture and festivals. Like any other kid my son also loves to eat sweet treats and this time on Holi I made gujiya for him. It was really funny story. He is still quite little and whole day I was trying to tell him that it is Holi festival today, but he kept on forgetting it. When I offered him gujiya yesterday he was skeptic at first but to my joy he instantly loved it after first bite. After that it was not difficult for him to remember Holi. He kept on saying we eat gujiyas on Holi.
Gujiya is a deep fried dumpling made with flour and stuffed with sweet filling. The traditional stuffing is made out of khoya and dry fruits. In this recipe here I am filling it with roasted semolina and dry fruits. The combination of crispy pastry and crumbly filling is so yummy.
Here is the recipe
Ingredients:
For pastry:
250g all-purpose flour
60g oil, extra oil for frying
25ml milk
70ml water
Pinch of salt
For filling:
150g semolina
60g almonds
60g pistachio
60g cashewnuts
30g raisins
70g fine sugar
70g butter
20g coconut powder
4-5 saffron strands, soaked in water
For sugar glaze:
50g sugar
50 ml water
Method:
For dough:
In a bowl sift together flour and salt. Add in the oil and combine it together by running your fingers through the mixture. It should form crumbles.
Now add water (little at a time) to form soft and non-sticky dough. Cover the dough with kitchen towel and let it rest for 30 minutes.
For filling:
Roughly chop all the nuts and raisins and leave it aside.
Place a pan on medium heat and add 2 tbsp. of butter. When butter has melted add in the semolina. Roast it by gently stirring it on low-medium heat for 5-7 minutes until it turns lightly brown. Add in the chopped nuts and stir it for another 2-3 minutes. Set it aside and let it cool.
Once cooled add in the raisins, sugar, coconut powder and saffron infused water.  
In the end mix in the rest of the butter that has been melted.
For making sugar glaze:
In a small pot add in the water and sugar and bring it to boil. Reduce the heat and let it simmer for 5-10 minutes until it lightly thickened.
For assembling gujiya:
Divide the dough into 25 small portions and shape them into balls. Place the balls in a bowl and  cover them with a cloth.
Roll out one ball with a rolling pin into a circle (8-10 cm). Apply water around all the edges of the rolled dough. 
Place about 2-3 tsp. of the filling on one side of the circle while keeping the edges free the center. Close the gujiya by carefully folding one side and joining together both the edges. Gently press the edges and make small folds. Repeat it with rest of the dough in similar manner. Cover the stuffed gujiyas with cloth to avoid drying.
To deep fry gujiyas heat enough oil in a wide vessel. The oil should be hot but not very hot. The best way to know if the oil is hot enough is by adding a pinch of dough and it should come right up.
Keeping heat at low to medium slowly drop 3-4 gujiyas into the oil. Deep fry them until golden brown, carefully cooking them on both sides. Remove from the oil and drain them on paper towels.
For glazing make sure that the syrup is warm but not hot. Heat the pan if it has turned cold and sugar is crystallized. To glaze either dip the gujiya in syrup or brush the syrup with pastry syrup. Set aside for 10-15 minutes
Crispy gujiyas with sweet filling are ready for serving.
Preparation:  1 hour 
Cooking time: 30 minutes
Makes: 25 gujiyas
---