Sabudana Khichdi-Tapioca Khichdi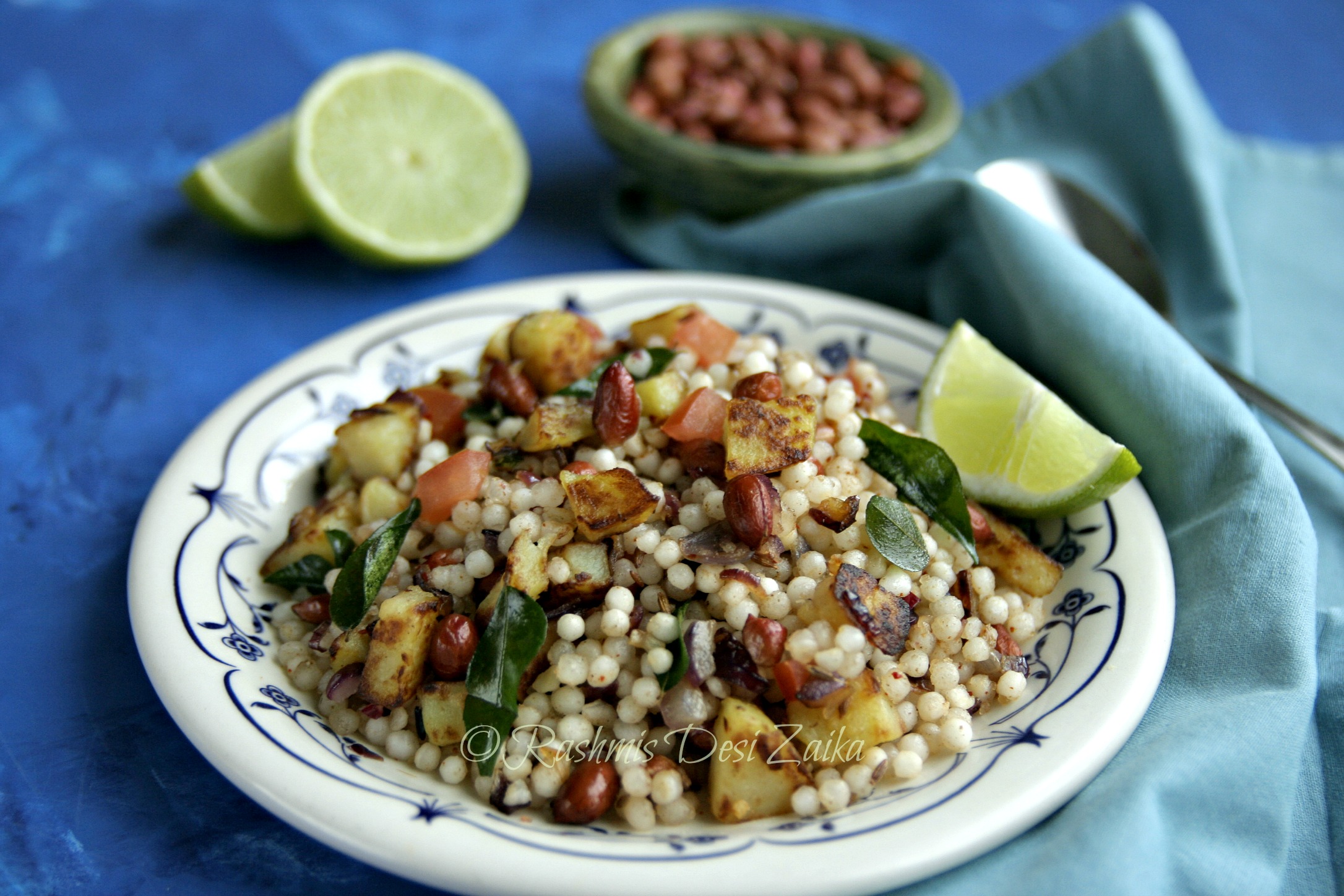 When someone mentions khichdi for me it is comfort food, something that is so easy to make and is simply delicious. There are many different kinds of khichdi popular in India, with the most common one being made using rice and lentils and has quite runny consistency.
I have been away from writing in last few weeks mainly because busy weekends, sick kid and whenever got time I was busy trying new recipes, which I will share soon.
Todays recipe is of khichdi which instead of rice is made with sabudana or as it is called in English tapioca pearls. These are quite popular in Asian cuisine, where they are used in savory dishes as well as desserts. Sabudana are made by extracting the starch from roots of cassava plants and passing it through the sieve under pressure.
This recipe is one of those comfort dishes that is famously eaten during fasting time in navratri festival, but I could have it anytime. This recipe here is slightly different than the one eaten during fasting time as it contains onions, but one can easily skip it. I like to add onions as it adds nice sweetness when I am not making it during the festival time. So, the soaked sabudana are mixed into sautéed with onions and potatoes. Addition of roasted peanuts adds crunch and nutty flavor to the dish. 
In India my mother used to make it mostly during the fasting time, where she would make different kinds of dishes using sabudana. In the beginning, I personally had very tough time to make it myself because these pearls are very dry and need to be soaked in water for some time to enable them to swell. Any guesses, what happened when I tried to make it first time, either not enough water so the final dish they very hard or too much water and the whole thing was totally mushed up. I will share here my method of swelling them so you can get the right texture for your dish.
So, here is the recipe..
Ingredients:
150g sabudana (tapioca) pearls
50g peanuts
200g boiled potatoes (2 medium), diced
1 medium onion, finely chopped
1 small tomato (seeds remove), diced
1 green chili, finely chopped
12-15 fresh curry leaves
1 tsp. cumin seeds
1 tsp. salt (according to taste)
½ tsp. sugar
½ tsp. red chili powder
1 tsp.  amchur/dry mango powder
½ tsp. lime juice
2 tbsp. oil
2 tbsp. butter
Method:
Soaking sabudana
Place the sabudana in a sieve and lightly wash by putting them under running water and transfer them in a bowl. Take little water in your hands and add it to the pearls. Add it few more times with your hand so that there is just enough water to coat the pearls. Run your fingers through them. Let it sit for 15-20 minutes and during this time the pearls will feel swelled but they will still be hard from center.
Run your fingers through it again. Add more water to it like done before and let it sit for another 15-20 minutes. Repeat the process few more times until sabudana has swollen completely without a bite, but still retain its shape. The whole process should take hour-hour and a half.
Preparing khichdi
Lightly toast the peanuts and keep them aside.
Place a pan on medium heat and add 1 tbsp. of oil. Sautee the boiled and diced potatoes on medium heat until they get lightly brown crust (5-10 minutes). Transfer the potatoes to another bowl and keep them aside.
Place the pan back on medium heat and add remaining oil and all of the butter. When the butter has melted, add in the cumin seeds and let it brown for a minute. Then add in green chili and curry leaves and cook until they crisp up. Stir in the onions and cook on medium heat for few minutes until they just soften up. Add in now the salt, sugar and spices, chili and amchur and cook for a minute.
Now add in rest of the ingredients, sautéed potatoes, roasted peanuts and soaked sabudana; mix everything together. Take it off the heat and mix in the diced tomatoes and lime juice.
Enjoy!
Preparation:  15 minutes plus time for soaking sabudana
Cooking time: 15 minutes
Makes: 4 servings
---