Rajasthani Laal Maas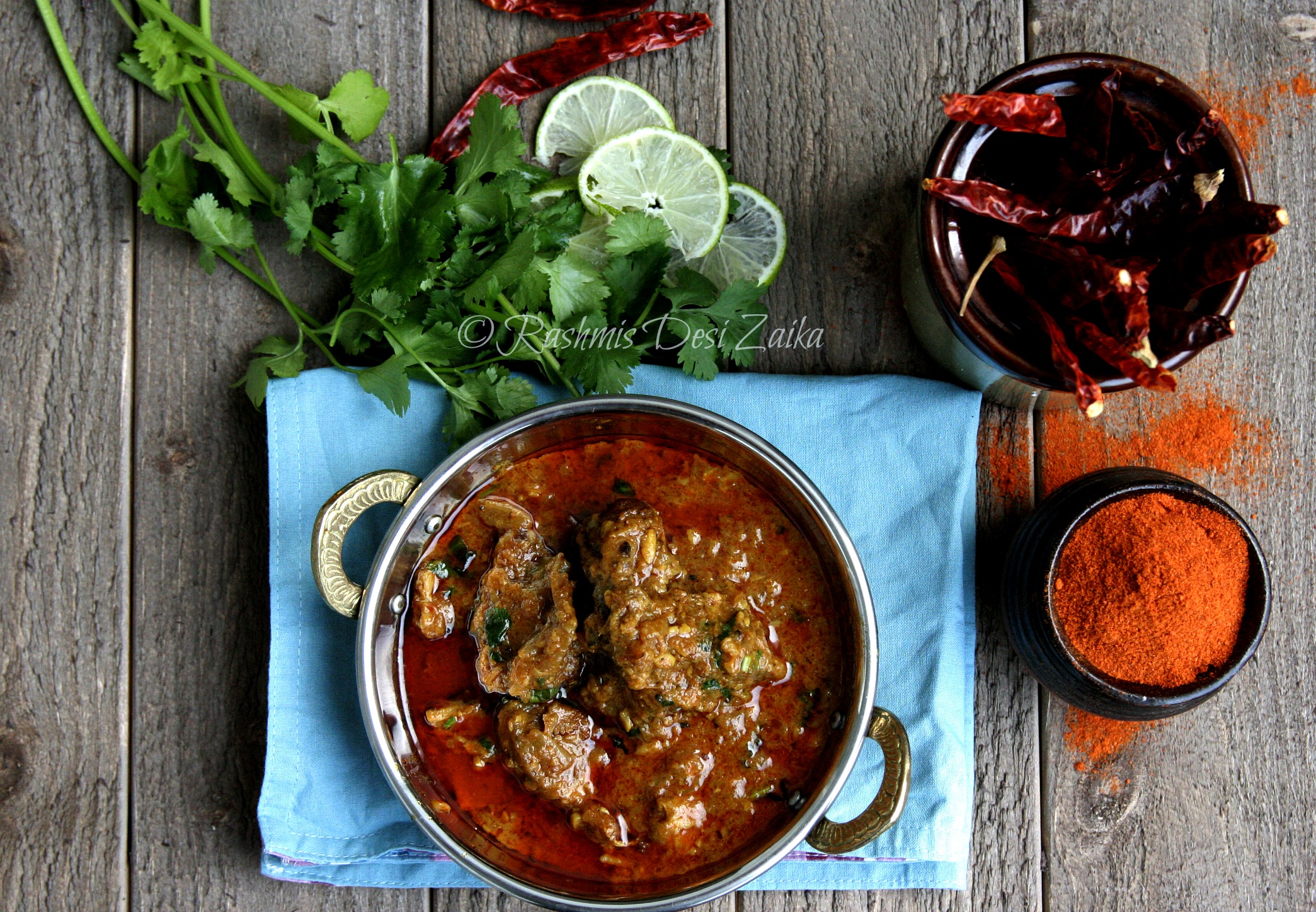 This dish comes from desert-land of the country-Rajasthan. I have visited few cities in Rajasthan long time ago and found the place totally intriguing. From its golden deserts, majestic forts, rich cultural heritage to mouth-watering food, whole experience was totally incredible. 
My first memory of having Rajasthani food was at an annual fair organized every year in Delhi. I remember eating different kinds of delicious dishes and few of my favorite ones being gatte ki sabzi and dal batti churma.
Rajasthan is a dry place, so the food that is eaten there is highly influenced by availability of the ingredients. Scarcity of water and fresh ingredients had its effects on the cooking style. Lots of food preparations require less water to cook and many delicacies substitute it with milk or curd, which also gives nice creaminess to the food. Rajasthani food is a perfect example of adapting to local ingredients without compromising flavors of the food; depending heavily on usage of different kind of spices to substitute for fresh ingredients.
The straight translation of the dish 'Laal maas' is 'Red meat' and it is one of the most famous non-vegetarian dishes from Rajasthan. Traditionally it is made with mutton and uses special Rajasthani chili called as "Mathania Red Chilly", which comes from Mathania in Jodhpur and gives the dish its deep rich color and heat.  The meat is slowly simmered with whole spices and chilis in clay handis for many hours.
My introduction to this dish came while searching for lamb recipes to make it for my lovely husband. An excellent blog from Chef Kunal Kapur on the history of Laal Maas, was very informative. I tried few times different recipes and this one is the best version and my husband absolutely loved it.
The recipe is quite spicy, as is most of the Rajasthani food, but I don't like it to be fiery hot because then one cannot taste anything else. The traditional mathiania chilies are not easily available everywhere and many recipes suggest substituting it with Kashmiri red chilies which also gives heat and deep red color. In this recipe here, I used normal red chili powder for good amount of heat and paprika powder for deep red color.
So, here is the recipe
Ingredients
600 g lamb on the bone
300 g onions, sliced (3 onions) 
3 tbsp. ginger grated 
3 tbsp. garlic grated
150 g cup thick yogurt 
2 tsp. coriander seeds (roughly grinded) 
1 tsp. cumin seeds (roughly grinded) 
½ tsp. cloves  
2 bay Leaves 
3 cardamom, seeds powdered  
1 black cardamom, seeds powdered
1 whole chili 
1tsp. black pepper corns (roughly grinded) 
1 tsp. red chili powder 
1 ½ tbsp paprika powder 
2 tsp. salt (according to taste)
½ tsp. sugar
100 ml mustard oil 
½ lime
2-3 tbsp coriander, for garnish
Method
In a deep pot heat 50 ml of mustard oil till it smokes and immediately reduce the heat. While keeping the heat medium to high, add the meat to the pan and sear it off to get nice crust. Remove the meat from the pan and keep it aside.
In the same pan add remaining 50 ml of oil and when it starts to smoke turn off the heat. When it cools down to medium hot, turn on the heat and add bay leaves, whole chili and cloves. As they start to crackle add the sliced onions and cook on medium heat for 5-7 minutes until they start to soften up.  
Now stir in the ginger and garlic paste. Then add the dry spices (coriander, cumin, chili , black pepper, paprika, green cardamom and black cardamom) and salt. Stir it for few minutes to cook the spices.
Keeping the heat high now add in the whisked yoghurt and keep stirring for few minutes. Add in the seared lamb and give everything a good mix. Add around 200 ml of water to the dish to cover the meat, and bring it to a boil. Cover the pot with lid and let it simmer on medium heat. It takes around 2-3 hours to cook till the meat is done and is falling off the bone. Add water if needed while the meat is cooking.
Just before serving squeeze in half of lime and add dash of sugar to enhance the flavors. Garnish it with fresh coriander.
Serve it hot with rice or roti.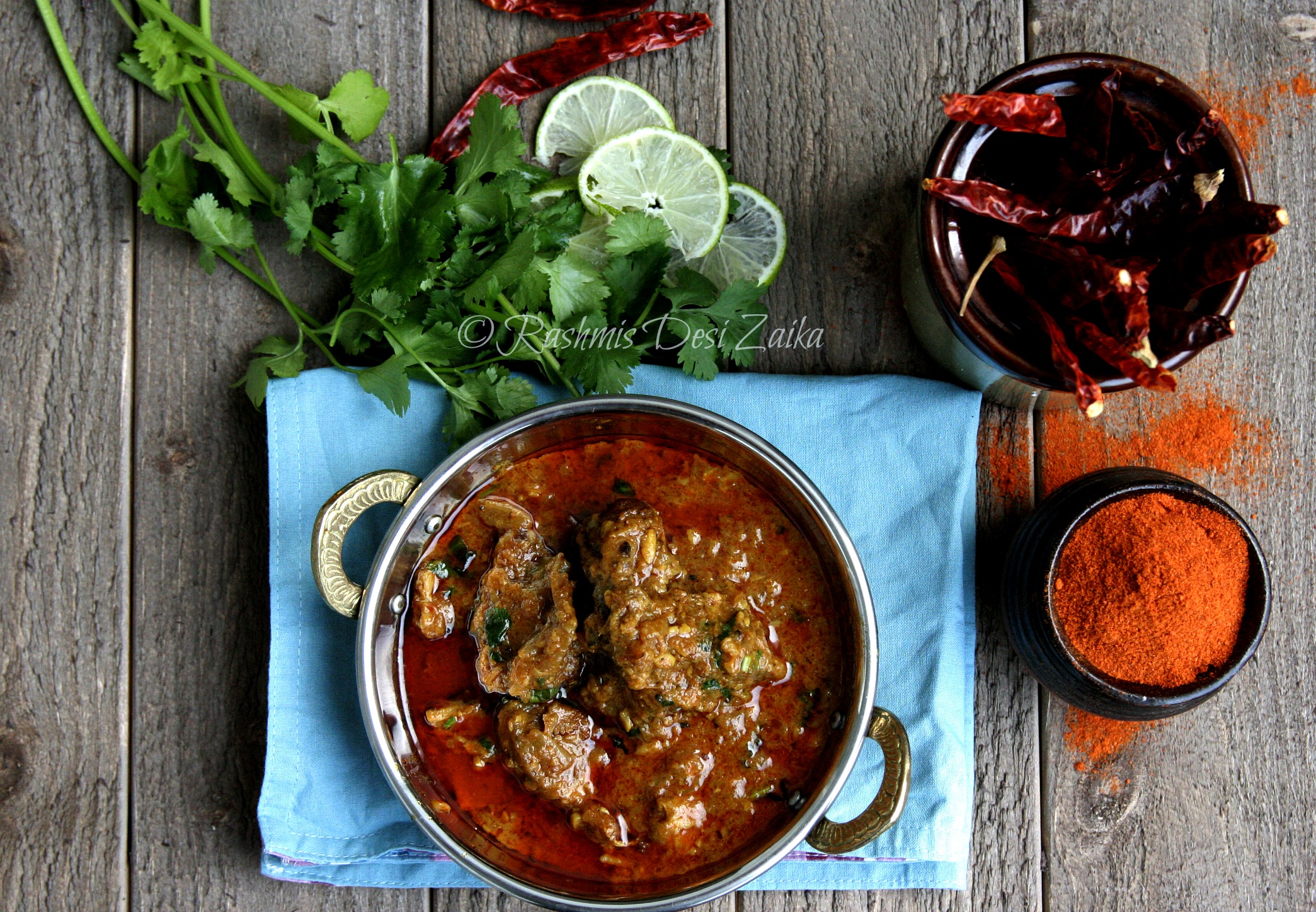 Preparation Time: 1 hour
Cooking Time: 2-3 hours
Makes: 4 servings
---