Besan katori chaat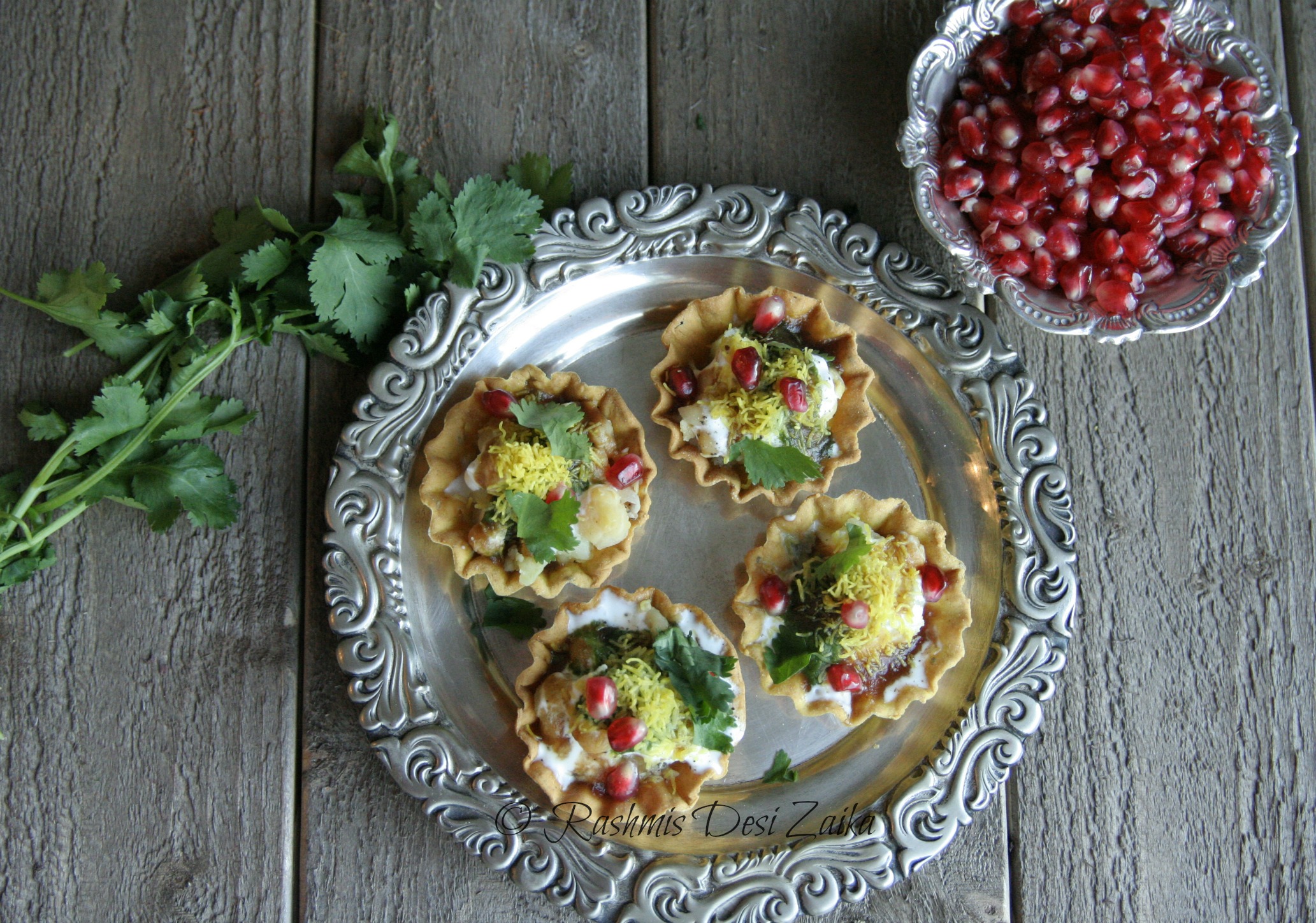 This week I made Katori chaat for a get together with some friends.
Chaat is a broad term to describe popular Indian snack, sold typically at road side stalls or at food carts. Historically chaat is believed to have originated in the royal kitchen of Emperor Shah Jahan. Interestingly years after the origin and as the country underwent foreign influences, new flavors have been added on to the local ones. This led to invention of varied dishes of chaat in different parts of the country. It has become quite popular not only just in India but also in rest of South Asia.
The chaat variants include fried crisps, together with vegetables, tangy-salty spices and topped with different kinds of chutneys and garnishes. The flavors are just mind blowing!
Katori, which in Hindi means bowl, is the quite recent addition to the list of the popular savory snacks. Again there is a huge variety in what can be used to make katoris.  The most popular version is to make it by using grated potatoes which were shaped into a bowl and then deep fried. Also, it can be made with all-purpose white flour. Katoris, made in any way can then be stuffed with different kinds of filling. There is no limit to what one can use to stuff them.
My version today is a healthier one, where I used gram flour (chick-pea flour, besan) as main ingredient to make the katoris and instead of frying them they were baked.
It came out very nice and I really liked the nutty flavor of the baked katoris.  To fill the katoris I used the traditional version with yoghurt, chutneys, crispy sev and fresh pomegranate.
So here is the recipe.
Ingredients:
For katori:
100g gram flour (chick pea flour, besan)   
25 g whole wheat flour
1 tbsp. corn flour
1 tbsp. vegetable oil
½ tsp. salt
½ tsp ajwain seeds (carom seeds)
½ tsp. chili powder
¼ tsp. baking powder
Water, around 75 ml
For filling:
2 medium potatoes, boiled
50g boiled chickpea (canned can be used)
100ml coriander-mint chutney
100ml tamarind chutney
150g of thick yoghurt
1.5 tsp roasted cumin seed powder
½ tsp chili powder (or according to taste)
½ tsp garam masala
Salt, according to taste
5 tbsp sev
4-5 tbsp. fresh pomegranate seeds
2 tbsp. fresh coriander, for garnishing
Method:
For making katori:
In a deep bowl, sift in all ingredients except oil and water. Add in the oil and mix it together by running your fingers through it. Now add water (little at a time) to form dough. The dough feels sticky, but it will all come together at the end. Let it rest for 15-20 minutes.
Dust your hands with some wheat flour to divide the dough into 4-5 portions and shape them into balls. Sprinkle the surface with some flour and roll out the ball as thin as possible. Using a cookie cutter cut out three small round shapes and place them over tart containers. Gently press them all over especially at the edges. Remove any extra dough from the edges. Repeat with rest of the dough in same manner.
To bake the katoris, preheat the oven at 160ᵒC. Place the tart pans in the oven and bake them for 10-12 minutes. The katoris will start to turn golden brown and it will quite nutty aroma in the air. Take the tart pans out of the oven. Let it cool down before taking the katoris out of the tarts. 
Katoris can be stored in airtight container.
For assembling katori chaat:
Peel the potatoes and and roughly mash them with your hands. Season them with salt and half a tea spoon of roasted cumin powder. Keep aside.
Take yoghurt in a bowl and loosen it with little bit of water. It should not be very runny. Add salt, remaining roasted cumin powder, garam masala and chili powder.
To assemble katoris, add around 1 tbsp of mashed potatoes and few chickpeas. Add 1 tbsp of yoghurt and both the chutneys. Garnish with sev, fresh coriander and few pomegranate seeds.
This dish hits all the notes. It has crispy and nutty flavor from the gram flour katori, rich yoghurt powered with spices, spicy-sweet-tangy chutneys and freshness from pomegranate seeds….just perfect.
Preparation Time: 30 min
Cooking Time: 1 hour 
Makes: 20 katoris
---