Spiced Oatmeal Cookies-With Homemade Granola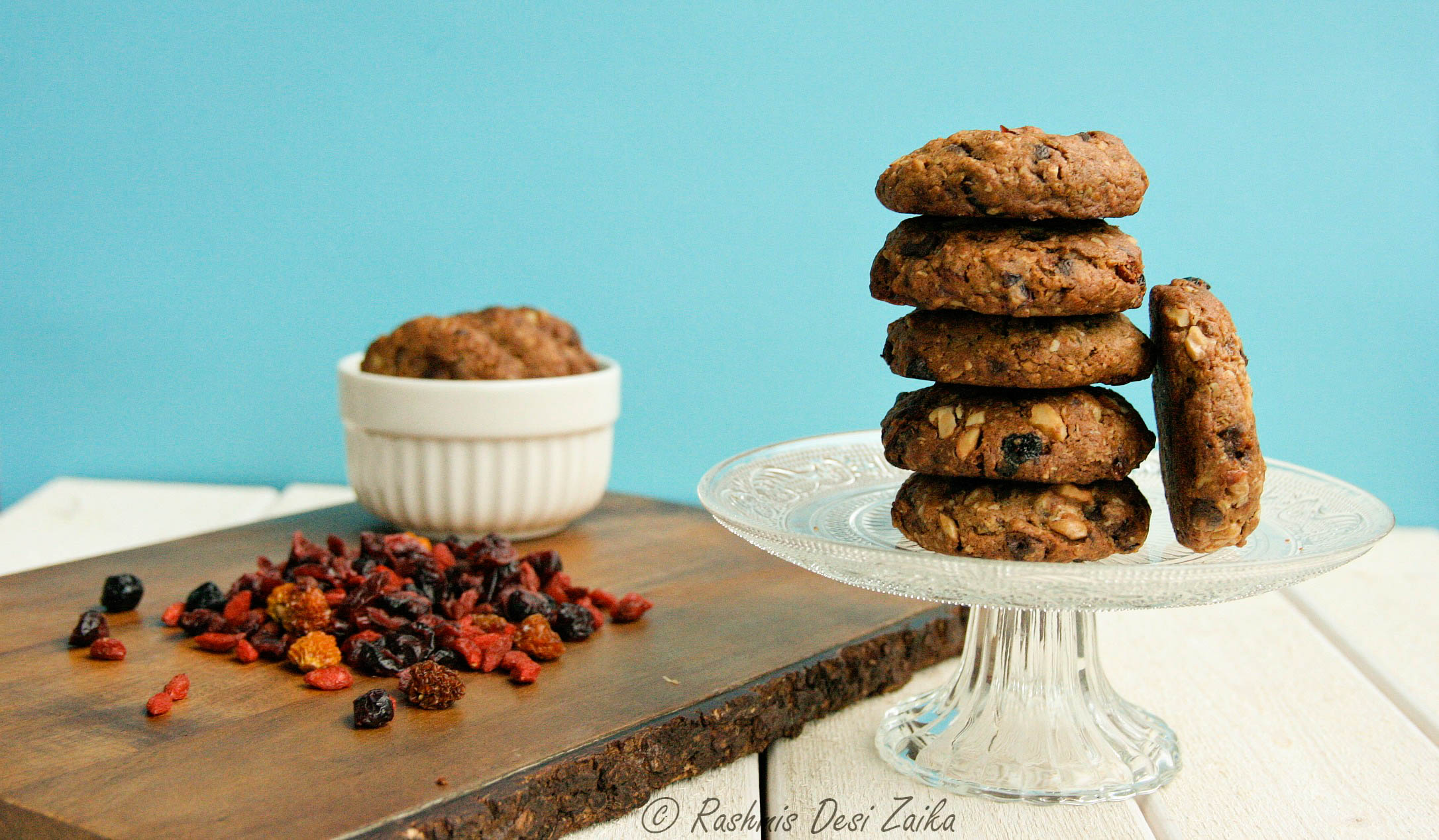 Today's post is a sweet one, well also healthy one.
It is this time of the year when it is dark and cold especially in this part of the world. Christmas is just round the corner and everyone is waiting for the snow to come to cheer them up. With festivities in the air it is also the time of the year when good food makes you warmly happy, especially when prepared in the oven. You know all those warm casseroles and sweet delights….
We all love to bake and there is something really magical with the aromas of cakes, cookies and warm spices in the air.
I am relatively new to baking but that does not stop me from trying new things in the kitchen. I do my experiments with baking and oven…although not all the time they are successful.
I just love cookies, well who does not, especially the ones with chocolate chips which are crunchy from outside and gooey from inside.
I have tried making few times different kinds of cookies but one of my favorite, that I am posting here, is oat cookies using homemade granola. I have tried it few times before and this version here is my favorite with goodness of nuts, raisins and dried berries.
While trying for these cookies I figured out making granola is so easy and it tastes so delicious. It needs just few ingredients and oven does the rest for you. I had some today morning in the breakfast with fresh fruits and milk. The use of brown sugar gives it nice caramel taste….was just perfect.
Here is the recipe for the oatmeal cookies.
Ingredients:
For granola
115g Oats
50g Walnuts (roughly chopped)
25g almonds (roughly chopped)
¼ tsp. salt
30g muscovado sugar
2 tbsp. dark syrup
25 g unsalted butter, melted
For cookies
210g granola
25g raisins
50g dried berries
90g chocolate chips (dark)
115g all-purpose flour
½ tsp. baking powder
½ tsp. baking soda
½ tsp. cinnamon powder
½ tsp. nutmeg powder
½ tsp. vanilla extract
2 eggs, lightly whisked
75g muscovado sugar
100g unsalted butter, cut into pieces
Method:
For granola
In a bowl, mix together oats, walnuts, almonds, muscovado sugar and salt. Pour on it dark syrup and butter and toss it to coat the mixture completely. Spread the mixture evenly on a tray lined with baking paper and bake it for 25 minutes at 110ᵒ C. Take the pan out from the oven and let it cool down.
For cookie dough
In a bowl, whisk together flour, baking soda, baking powder, cinnamon powder, nutmeg powder and salt.
In a microwavable bowl, melt the butter on low-medium heat, checking every 10 seconds, until it is almost melted. Remove from the microwave and stir to mix completely. Add the muscovado sugar into the melted butter and mix it thoroughly. Add in the whisked eggs, vanilla and flour mixture. Mix until all the flour is combined with rest of the mixture.
To this dough, add granola, berries, raisins and chocolate chips. Mix with your hands until everything is uniformly incorporated.  The dough will be sticky. Wrap the dough in plastic cling wrap and refrigerate at least for 2 hours (best overnight).  
For making cookies
Take the dough and split it into two portions. While making cookies with one batch, refrigerate the other one.
To make the cookies divide one part of the dough into 8 portions. Roll out each portion into a ball and gently press them between your palms into shape of a cookie (around 5 cm). Refrigerate them again for 30 minutes. Place them 4-5 cm apart on a baking sheet and bake them for 11-12 at 180ᵒC. The cookies will be brown around the edges, start to brown up on the top and will feel soft upon touching. Take the tray out of the oven and let the cookies cool down a bit before transferring them on a wire rack.
Do the same with second part of the dough. While first batch of cookies are in the oven, shape the second portion of dough.   
Store them in air tight container.
Preparation Time: 1 hour (total)
Cooking Time: 1 hour (total)
Makes: 16 cookies
---