Dubki wale aloo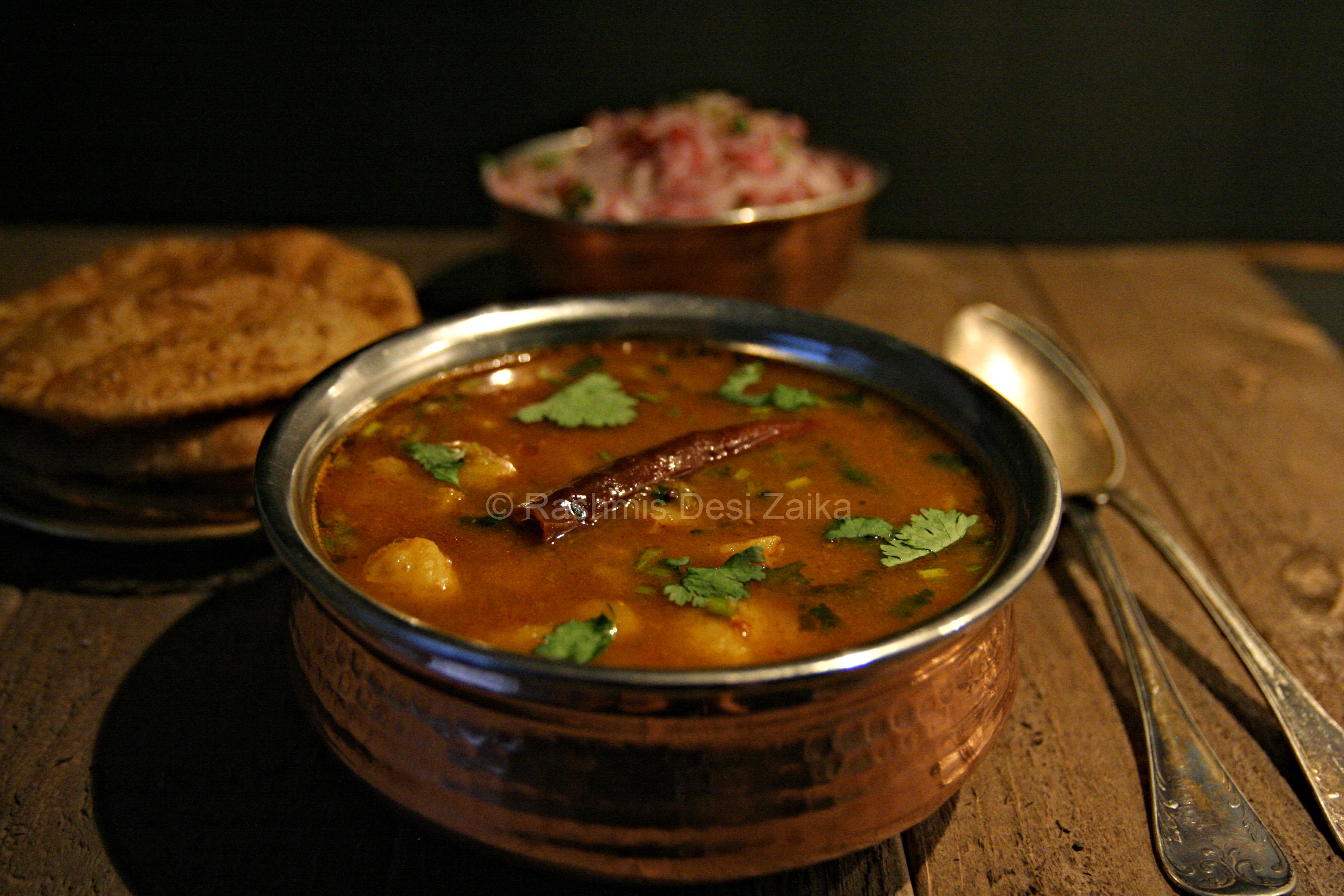 This was another dish that we had on the restaurant day event at our place few weeks ago.
Dubki wale aloo is a very famous dish from Mathura, one of the holy city in state of Uttar Pradesh. Also called as aloo rasa it is a simple dish but packed with flavor. The name by itself describes the dish, 'dubki' means dipping and 'aloo' means potatoes, so potatoes dipped in thin gravy.
The chunky potatoes are cooked for a long time in thin, almost watery gravy , which is soaked in flavors of aromatic spices. The use of freshly grounded spices gives this dish its warm notes.  
This dish is best served with khasta dal kachori or bedmi puri (puri stuffed with urad dal\lentils). It is popular all across the state including my hometown, where it is sold in snack stores and by street hawkers. 
My memory of having them in India is when my mother made them at home after she found out the recipe from a friend. At that time I did not know where it is originally from but for me it was very runny and so I called it 'pani wale aloo'; pani in Hindi means water, so potatoes in watery gravy. It was for a long time that the dish had that this name only for me. It goes so well with fresh grated radish seasoned with fresh black pepper and hint of lime. 
At restaurant day event we had it with khasta dal kachori. Today when I made them again for us we had it with bedmi puri. It was just perfect for this kind of wet and cold weather. I have used here in this recipe freshly pureed tomatoes.Traditionally, there is no onion, garlic or tomatoes in the recipe, but I like the tanginess that comes from the tomatoes and how the flavor works together with the spices.  
So here is the recipe.
Notes:
Kashmiri red chili gives nice heat and deep red color. If you don't want it to be hot it can be subsituted with paprika, which will gives nice color.
Ingredients:
600g potatoes, boiled (around 5-6)
3 tbsp ginger (freshly grated)
2 medium tomatoes (pureed)
½ tsp  turmeric powder
½ tsp kashmiri chili powder
1½ tsp amchur/mango powder
1½ tsp salt (adjust according to taste)
1 tsp sugar
2-3 tbsp fresh coriander (chopped)
Spices to grind
6-7 cloves
1½ tbsp coriander seeds
1 tsp cumin seeds
2 green cardamom (seeds)
1 black cardamom (seeds)
½ tsp black pepper corns
½ tsp cinnamon stick
½ tsp fennel seeds
For tempering 
2 tbsp oil
1 dry red chili
¼ tsp asaofoetida
1 bay leaf
½ tsp black mustard seeds
½ tsp fenugreek seeds
Method:
Peel the boiled potatoes and roughly chrush them into chunks with your hands. Keep aside.
Add all the whole spices (listed in- to grind) in a small mixer and grind them to make fine powder.
Heat oil in a deep pan or a wok. Add dry red chili, bay leaf to the oil and when it starts to change color add asafoetida, mustard seeds and fenugreek seeds. Fry briefly until mustard seeds start to splitter and fenugreek seeds start to brown up. Stir in the ginger paste. Keeping the heat at low, add the freshly grounded spices, turmeric and kashmiri chili. Stir in briefly and then add water (700-800ml) to it. Add in the pureed tomatoes and bring in to boil.  Let it simmer for 5–7 minutes.
Add in the potatoes and season it with salt. Let it cook for 10-12 minutes on low-medium heat. Balance the flavor of the gravy with sugar and mango powder. Simmer it for a minute. 
Adjust the thickness of the gravy. Add more water if needed.
Garnish with fresh coriander.
Dubki wale aloo are ready to serve with khasta kachori or puri.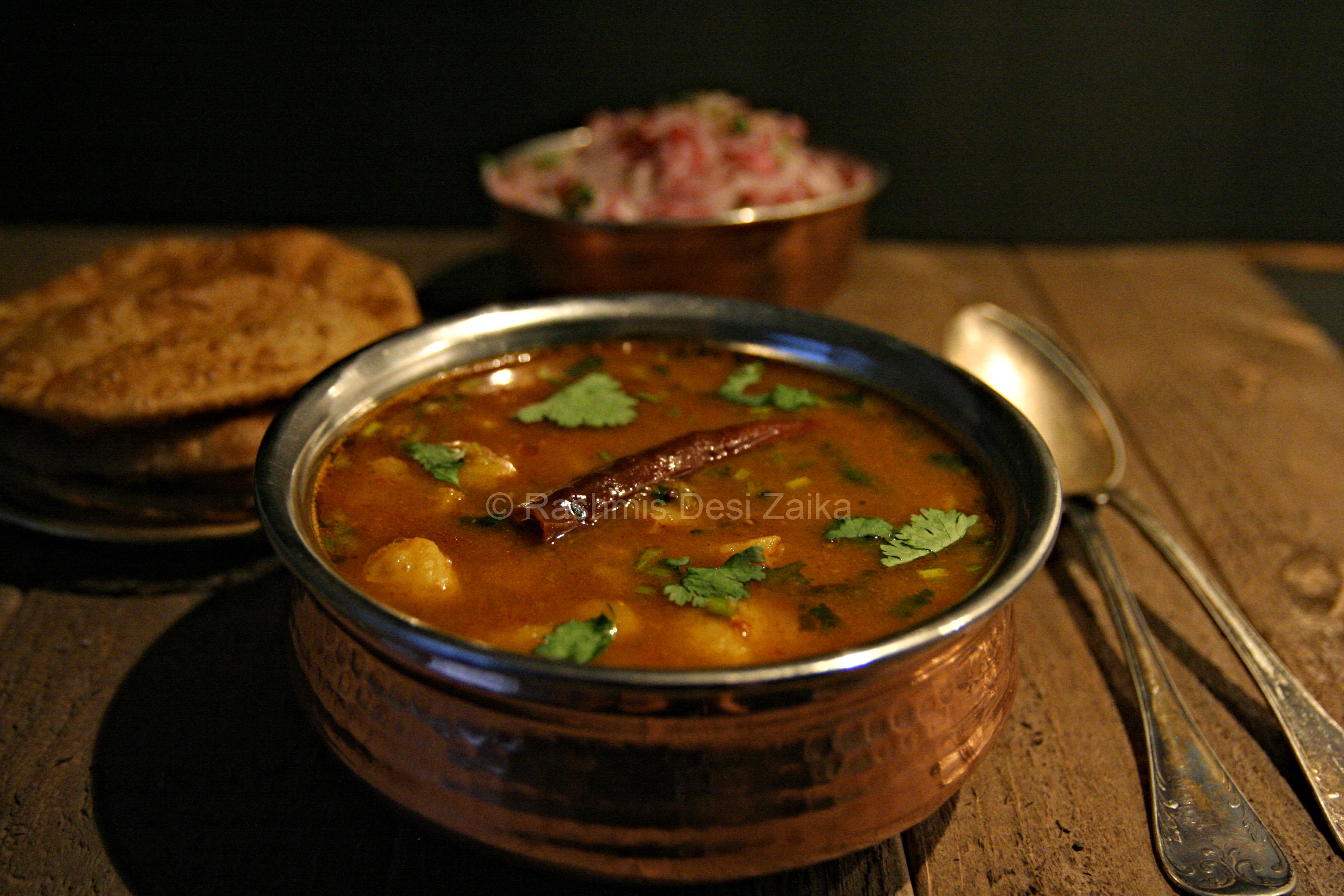 Preparation Time: 30 minutes
Cooking Time: 30 minutes
Makes: 5-6 portions
---