Coconut Rose Burfi-Pink Burfi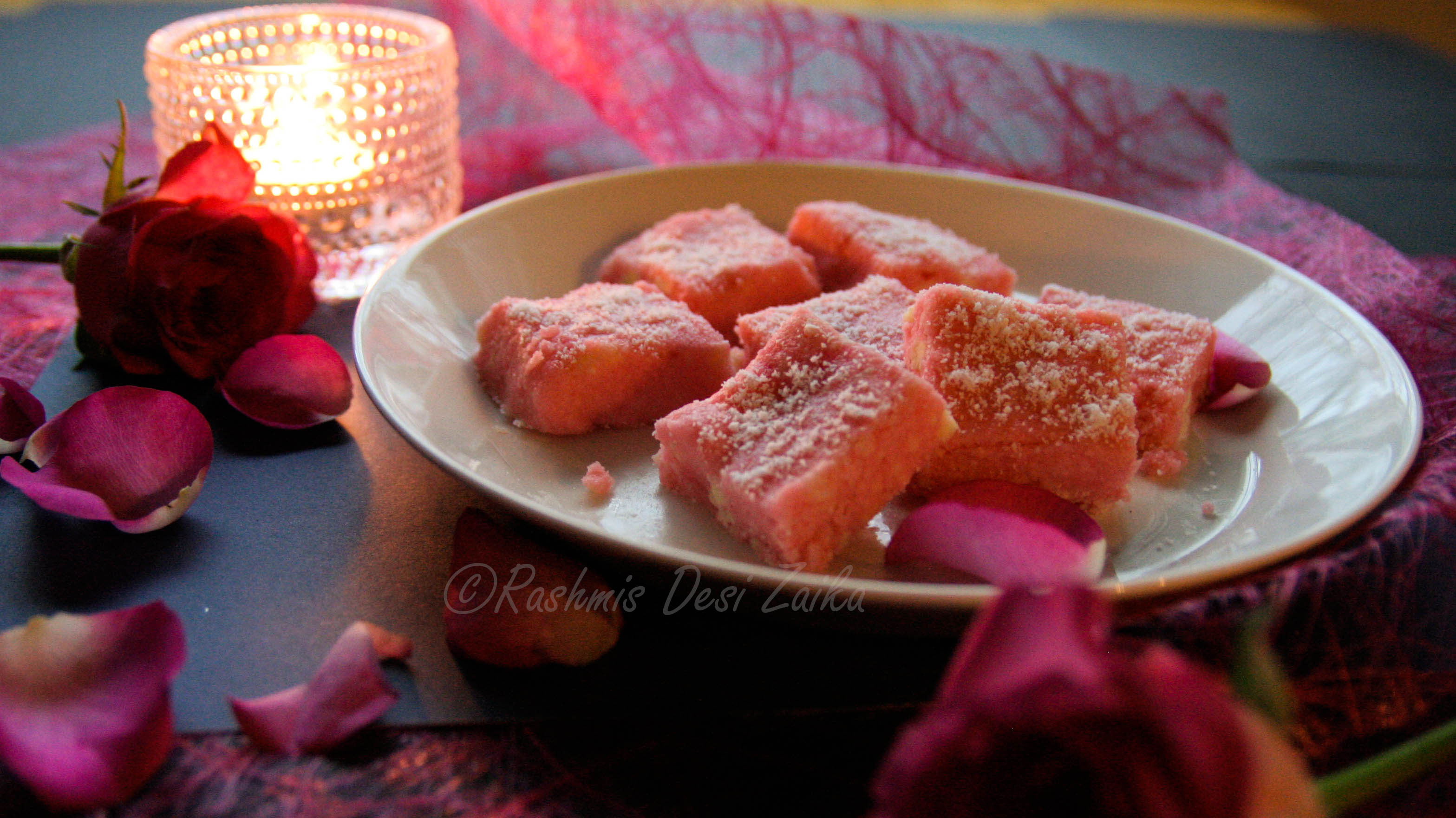 This is my first post here and I am so excited about starting this food journey. I will share here with you my recipe of coconut rose burfi 'pink burfi'.
I made this burfi few days back on the occasion of Diwali, which is the festival of lights. Back home life is full of festivity during this time. The whole city would be illuminated with lights, houses would be decorated with diyas (clay lamps), stores would be shining with gifts and my favorite sweet stores would be full of delicious Indian sweets, which are called as 'mithai'. 
Also it is a tradition in India to eat something sweet when one starts something new or important, like I am starting this blog.
So now I have two reasons why to start here with something sweet. First of all what is burfi? It is like fudge and is dense milk-based mithai.  It comes originally from the Northern part of India and the name is derived from the Hindi word burf, which means snow. 
There is a personal story behind the name 'pink burfi'. While growing up in India I visited with my parents to the mithai shop. I remember one in particular and my father asked me if I would like to eat anything. While looking at the huge selection of mithais at offer, the bright pink burfi caught my eyes, so, I told him, 'I want the pink burfi'.  Since then, it was pink burfi for me and even today when I visit there, I call it as pink burfi. I would say in the beginning it might be the attraction to the pink color and now I love it also because it tastes so good. 
The recipe needs only few ingredients and it is very easy to make. The main ingredient of this mithai is khoya or mawa, which is actually the base for many Indian desserts. 
It is basically thickened milk and is traditionally made by slowly cooking milk in open iron pans. This way gives nice consistency to khoya, but it takes quite some time to make and milk can easily burn from the bottom. For a while I was trying to find alternative ways of making khoya, which is faster and tastes similar to the traditional one. Here I will tell you how to make khoya with milk powder. It can also be used to make other mithais. 
Delicate rose water further enhanced the flavors of tradtional coconut burfi.
Ingredients 
100 gm milk powder
50 ml cream
50 ml milk
50 gm coconut powder
30-40 gm caster sugar
3 tbsp ghee or clarified butter, extra for greasing
1 tbsp rose water
Notes
 Dessicated coconut can be substituted for coconut powder
If you don't have ghee, unsalted butter can be used.
Method 
To make khoya, slightly warm up the cream and to this add 1 tbsp of ghee. In a bowl take the milk powder and to this add cream- ghee mixture. With your hand gently mix it all together and make dough out of it. Knead for few minutes to get soft consistency. If it gets dry take little cream and ghee in your hands and knead it again. 
Place a nonstick pan on low to medium heat and melt 2 tbsp of ghee. Break the khoya into chunks and add it to the pan. Keeping pan on medium heat, stir continuously to cook, for about 5-6 minutes. Add half of the milk, one tbsp at a time and mix. Add in the sugar and stir, mixture will start to loosen up.  The mixture should be soft. Add more milk if needed. Mix in the coconut and rose water and stir for a minute.
Transfer the warm burfi mixture on to slightly greased plate/tray. Place baking paper on top of it and using back of a spoon spread it out evenly, around 2 cm in thickness. Also smoothen out the edges. Remove the baking paper and let it set. Using a sharp knife cut out rectangular pieces. Garnish with coconut powder and serve.
Preparation Time: 15 minutes
Cooking Time: 15 minutes
Resting Time: 60 minutes
Yields: 9 slices
---